Man Dies in Car Crash After Defacing Black Lives Matter Mural With Mud, Oil and Graffiti
A man suspected of defacing a Black Lives Matter mural in Vermont with mud, oil and graffiti died in a car accident, police announced Thursday.
The suspect, identified as Fred Seavey by the Montpelier Police Department, died in a car accident July 1 after losing control of his vehicle and crashing into a highway median, according to an accident report by WCAX.
Police had identified Seavey, who was not wearing a seat belt at the time of the crash, as a transient with no listed home address, WCAX reported. Using DNA from the crash scene, police were able to positively match those samples to ones collected from spray paint cans found near the mural.
Police used the DNA evidence, witness statements and video surveillance to posthumously link Seavey, 56, to its investigation into the mural's vandalism, according to a news release.
Hundreds of Vermont residents had gathered in front of the statehouse in Montpelier June 13 to paint "Black Lives Matter" in big, yellow letters, a popular tactic among activists across U.S. cities in recent months.
In less than 24 hours, however, someone had spray painted over the letters and covered them with mud, dirt and oil, police said. A nearby sidewalk also showed painted phrases such as "$400 million gone" and "put it back call Trump," but police said those messages did not appear to be referencing the mural.
The mural was repainted following the incident, but Montpelier police asked residents for help in looking for the suspect. The state's attorney in Montpelier's Washington County told law enforcement there was "sufficient evidence" to file criminal charges relating to the incident on "unlawful mischief, burglary and petit larceny."
Identifying the act as hate crime was not possible in this scenario, as the "victims" are the City of Montpelier and the State of Vermont, not individuals, Rory Thibault, Washington County State's Attorney, said in a news release.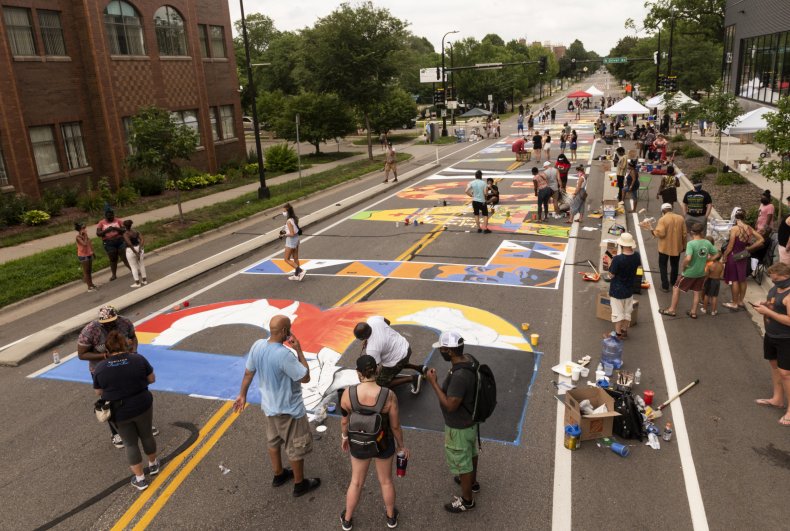 Vermont House Speaker Mitzi Johnson, who had joined in the mural painting, criticized the vandalism in a June 14 statement as "head-on racism and white supremacy."
"It is incumbent upon all of us to recognize it, name it, fight it, and right the centuries of wrong," she wrote.
Even though police have now positively identified their suspect, Thibault would not seek prosecution because of Seavey's death, he said.
The police department's investigation found that Seavey acted alone, so there are no other suspects in the case, Montpelier Police Captain Neil Martel told Newsweek.
"The case is closed, as far as that goes," he said. "The person responsible is now deceased."
Many Black Lives Matter murals in cities throughout the U.S. have faced similar acts of vandalism. The district attorney's office in Contra Costa County, California, filed misdemeanor charges against two of its residents, including vandalism, possession of vandalism tools, and violation of civil rights.
A viral video showed Nicole Anderson spreading black paint over a Black Lives Matter Mural on July 4 in front of the Wakefield Taylor Courthouse, while David Nelson, who wore a "Make America Great Again" hat, told onlookers they were "sick of this narrative, that's what's wrong." Nelson said that narratives of police brutality, oppression and racism are a "leftist lie" from the media. Police arrested the pair three days later.