A California man died last month of COVID-19 just one day after he wrote on Facebook about his regret over attending a party where he contracted the coronavirus.
"I f***ed up and went out a couple of weeks ago and I contracted the corona virus [sic]," Thomas Macias, 51, posted on June 20. "Monday I tested for it and it was confirmed on Thursday. Because of my stupidity I put my mom and sisters and my family's health in jeopardy. This has been a very painful experience."
He added, "This is no joke. If you have to go out wear a mask and practice social distancing. Don't be a f***ing idiot like me."
Macias went on to thank his friends for their support, writing that "hopefully with God's help I'll be able to survive this." But tragically he died the day after writing the Facebook post.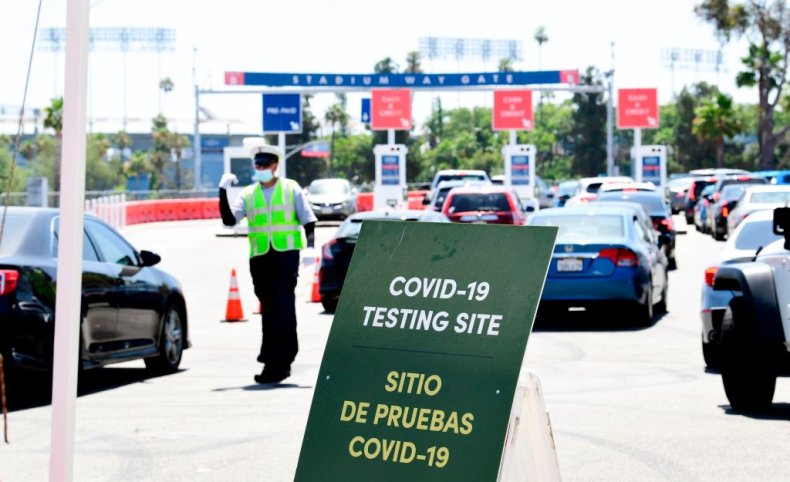 An official from the Riverside County Office of Vital Records confirmed to NBC News on Wednesday that Macias died from COVID-19. Newsweek reached out to the county office for further comment but did not hear back before publication.
The former truck driver was initially feeling cautious about the virus outbreak because of his physical condition, his brother-in-law Gustavo Lopez told NBC News. "He was quarantining because he was overweight and had diabetes," Lopez said.
But as lockdown restrictions were eased across the country and throughout California, Macias ventured out to attend a party. A friend who attended the gathering had known he was infected with the virus but did not believe he could spread it because he did not show any symptoms. Macias got tested after the friend told him he had been infected.
California has seen a severe spike in new infections over the past couple of weeks, with the state reporting a new single-day record increase (8,158 cases) on Tuesday. Overall, the state reported 239,763 cases and 6,168 COVID-19 deaths as of Thursday morning, according to a New York Times tracker.
Because of concerns over the surge in new cases, Governor Gavin Newsom ordered bars and dine-in restaurant service to close in 19 counties ahead of the Fourth of July weekend.
"This doesn't mean restaurants shut down," Newsom said Wednesday. "It means we're trying to take activities, as many activities as we can, these mixed activities, and move them outdoors, which is a way of mitigating the spread of this virus."
Nationwide, the U.S. set a single-day record for new virus cases on Wednesday. The country reported 49,932 infections, with the total number now more than 2.7 million. More than 128,000 deaths from COVID-19 have been reported as well.
The U.S. also remains the country in the world with the highest number of infections and deaths, which represent about one-quarter of the total numbers around the world.