Man Dies While Competing in Grueling, Multi-Day Race Across the Sahara Desert
An unnamed competitor in the 2021 Marathon des Sables died on Monday, marking the third fatality in the race's 35-year history.
Known as one of the most difficult footraces in the world, the Marathon des Sables takes place each year in Southern Morocco's Sahara Desert. The race covers approximately 250 kilometers (about 155 miles) over a period of about seven days.
Because it exceeds the traditional marathon distance of 26.2 miles, the Marathon des Sables qualifies as an "ultramarathon." The level of prolonged exertion to complete an ultramarathon, particularly when combined with extreme environmental conditions, can take a severe toll on one's body, causing potentially dangerous physical and psychological issues.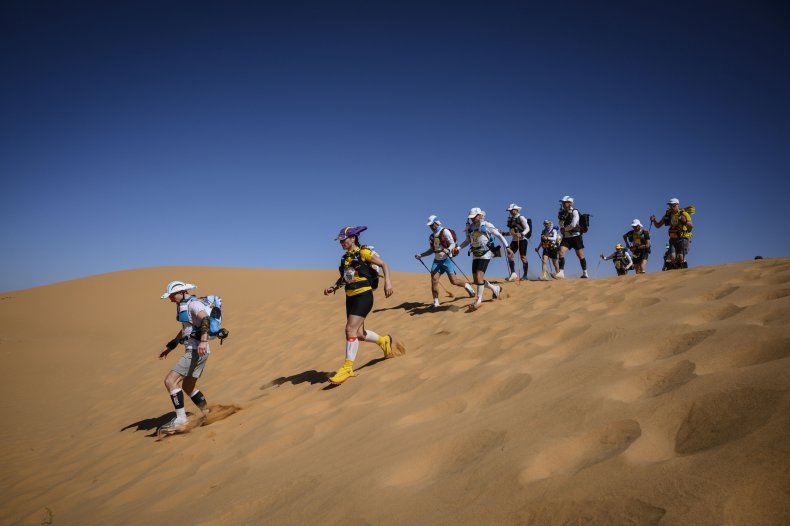 The Marathon des Sables reported the tragic incident on Monday, noting that the competitor suffered "cardiac arrest in the dunes of Merzouga" following "a fainting spell."
They added that the man was "in his early 50's and had fulfilled all the medical requirements for the race." He had already completed the first stage of the competition "without the need for medical assistance" at the time of the incident.
"After he collapsed, he was immediately rescued by two other competitors who are also doctors, who triggered the SOS button on his beacon and started the heart massage protocol," said officials from the event.
The Marathon des Sables Medical Director arrived at the site "within minutes by helicopter and took over from the participants." However, despite "45 minutes of resuscitation," the competitor was pronounced dead by medical staff.
The man's identity has been kept secret "out of respect" for his family, who has reportedly been informed of his passing.
Following the incident, Race Director Patrick Bauer broke the news to participants, leaving "staff and competitors...extremely affected."
While the race is planned to continue despite the tragedy, competitors will participate in a minute of silence before the beginning of the third stage.
As noted by The Conversation, ultra-endurance activities put a range of stresses on the body, physically and psychologically. "As growing numbers of competitors look to push themselves to their absolute limit, and [organizers] seek new challenges to enable them to do so, there is always going to be some risk," wrote the publication.
However, "the main cause of death during ultramarathons...is actually sudden cardiac death." Consisting of 43 percent of ultramarathon deaths, these cardiac arrests are usually sustained by those with unknown heart conditions.
Other potential dangers include environmental conditions, psychological stress, sleep deprivation, water and sodium loss and tissue damage.
In order to participate in the Marathon des Sables, competitors must provide "a medical certificate issued by the organization stating their ability to participate and a resting ECG report." Throughout the race, each individual is responsible for providing and carrying their own food, sleeping equipment, and other gear.