Man Disciplines Abusive Dog Owner by Yanking Him by Leash in Viral Video
A man was caught on camera dragging and yanking a dog owner by a leash after the pet was reportedly abused on a New York sidewalk.
Tashawn Rodriguez said he walked past the owner and saw the man dragging the dog "for three blocks against his will" with a "choker chain" around his neck.
In seemingly an act of vigilante justice, Rodriguez got the man to put the dog's leash around his own neck instead while he violently pulled and yanked the chain, sending the owner to the ground.
"When you drag a beautiful pitbull for three blocks against his will [and] walk past another fellow pitbull owner with no explanation .... KARMA!" Rodriguez posted to Twitter under the username @Str8CashTwist_ on Monday, alongside a video of the violent assault.
Footage shows the man standing facing the camera with the metal dog leash around his neck. Rodriguez immediately grips the leash, giving it one one quick and powerful jerk and sending the man flying to the pavement. He then continues to yank the chain, dragging the man on his back and stopping to slap him in the face. Finally, he drags the man into the middle of the road and kicks him in the ribs before walking off.
"I got a dog, bro," Rodriguez can be heard shouting at the owner. "Like f*****g dragging dogs?" he asks, while adding: "That's what you did!"
Rodriguez, a rapper from Brooklyn, New York, who goes by the stage name Str8CashTWIST, set up a GoFundMe page in a bid to raise money for dog food and supplies.
"Hey guys, I started this fundraiser for food and supplies towards a dog I recently seen treated badly and defended," the page description reads.
Rodriguez describes the owner as being in "bad shape" and "out of work" and therefore unable to properly take care of the dog.
"We're around everyday doing check ups and making sure he's fed [and] walked (normally) daily," the rapper added.
"Below is a picture of him the following afternoon .. happy, tail wagging and waving. A fresh cow bone and new collar I bought for him," Rodriguez said alongside a snap of the pooch. "He's now being watched over like one of my own."
Video of the assault—which has since amassed more than 471,000 views in less than 24 hours—brought mixed reactions from viewers.
"I understand his anger. I'll be damnnnn if someone treated my dog like that. But ... he still a person. I'm sure there was a better way to teach that lesson," one woman replied.
"Instead of calling the police on him. You guys picked street justice. You guys just committed a criminal assault and posted [it] online," another added.
Rodriguez defended his actions by uploading another video to show the condition of the dog when it was spotted on the street.
"Anybody need reasoning for my actions ... This [is] how he brought the dog to me," he wrote alongside a 15-second clip showing the pitbull's bloodied face. "I know many of you may not be happy with how I handled it but nevertheless I handled it."
"Felt slightly bad until I saw the condition of the dog," another viewer added. "Dude deserved every second."
Newsweek has contacted the New York Police Department and Rodriguez for comment.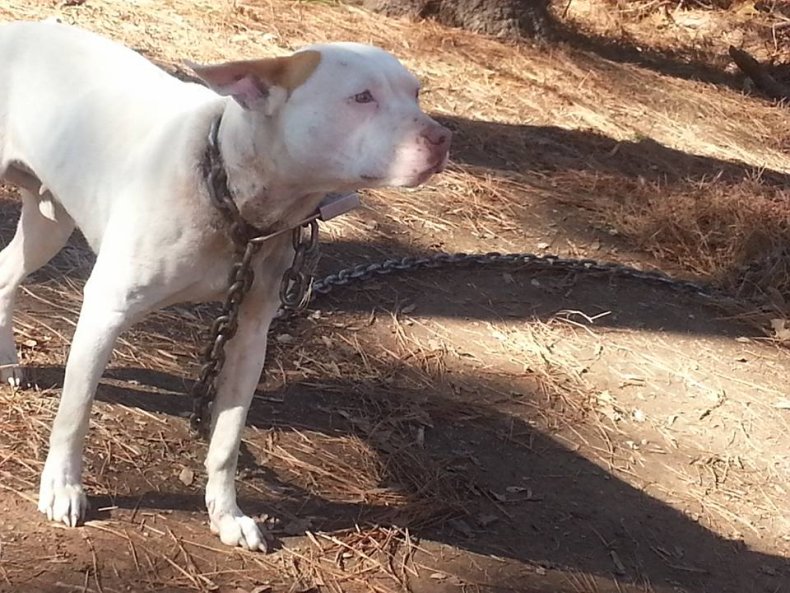 Update 6/28/21, 11:30 a.m. ET: This article was updated with additional information and context.