Man Discovers Bottle Washed up on Beach Contains Handwritten Message
A walk on a beach led to a discovery of a message in a bottle that journeyed across the Atlantic Ocean from Canada to the United Kingdom.
The Press and Journal reported that Andrew Eaton-Lewis of the Western Isles in Scotland thought he stumbled across some garbage left behind from a picnic when he first found the bottle.
He explained that he planned to recycle the bottle if no one picked it up by the time he left. His friend's father was the one who picked it up and realized what it was.
After taking a closer look at the barnacle-encrusted capsule, which he told Newsweek was near the waterline of Cliff Beach in Uig, he noticed a letter was inside.
Eaton-Lewis started speaking with another woman on the beach who was interested in what may be inside the bottle and had a corkscrew in her van. The entire group opened the bottle together.
"We had some friends up from Edinburgh and their children and we had been going for a walk where we live," Eaton-Lewis told the outlet. "They wanted to go to the beach, so we just quite randomly chose Cliff Beach. There are lots of different beaches you can go to, so it was sheer chance that we ended up on this one."
Taking to Facebook, Eaton-Lewis published a photo of the letter, which showed that much of the ink had faded and the message was written in French. He told The Press and Journal that the letter was dated January 26, 2020, and arrived within a stapled plastic bag inside of the bottle.
"Are there any fluent [ideally native] French speakers on here who might be able to decipher this letter which travelled across the Atlantic in a bottle?" he asked in his Facebook caption. "I can make out words and phrases here and there but my French isn't as intuitive as it needs to be to make any sense of it."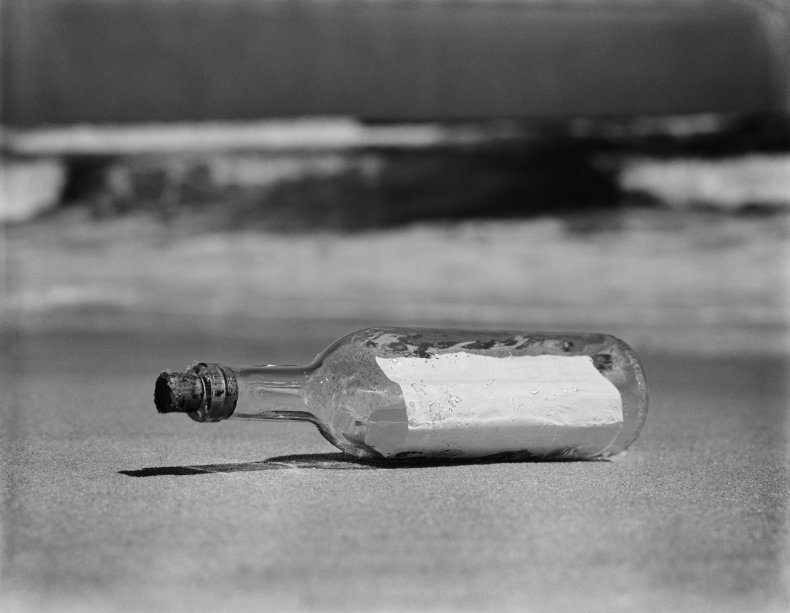 Since posting a photo of the letter, the news outlet reported that Daniel Paquet translated the bits and pieces of the letter that were still visible. They learned that the letter was penned by Andre Huet from Quebec, Canada, and is one of two letters that was sent on a voyage across the ocean. Another letter, as reported by The Press and Journal, was found in Portland in early 2020.
"The most incredible thing about this whole story is that Andre Huet appears to have managed to send two bottles across the Atlantic in the space of two years," Eaton-Lewis told Newsweek.
He said he wants to get in touch with Huet and plans to write a letter to him.
"I've included my email address so maybe he will respond," he said. "I'd be interested to find out a bit about who he is and why he does this. I would certainly like him to know his messages have made it across the Atlantic twice, because that's really exciting."
Other messages in a bottle have recently been discovered elsewhere in the world.
Newsweek reported in September that after more than three decades, a message in a bottle washed onto a beach in Hawaii. It was written by Japanese high schoolers and sent off of the coast just east of Tokyo in 1984.
Abbie Graham, a 9-year-old, found the bottle while she was with her parents. The letter noted that it was from the Chiba Prefectural Chosi High School Natural Science Club and asked that the finders of the bottle respond with their name, address, the date and the place it was found.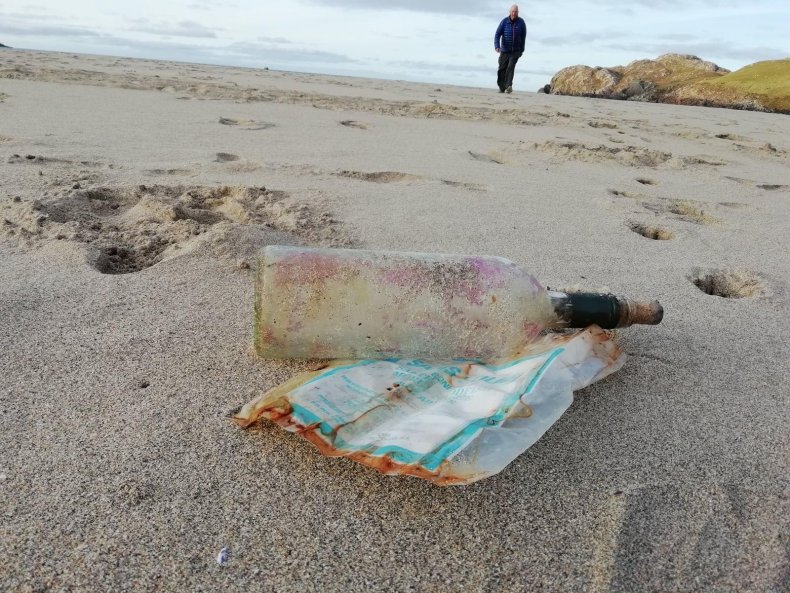 Updated 10/26/2021, 5:09 p.m. ET: This story has been updated with statements from Andrew Eaton-Lewis and a photograph of the bottle.