After taking his dog for a short walk down a path at the back of his house, a man in Stone Ridge, New York, made a shocking discovery.
"I looked down and saw my shoes and jeans covered in ticks," the man, who goes by the username voltrodeath3 on Reddit, told Newsweek. "I definitely was shocked [...] Especially [by] the ones on my jeans as they were quickly crawling up my leg."
In total, he collected roughly 40 ticks from his body. "The ticks were mostly on my legs and feet," he said. "Some of them made it to my head. Almost all of the ticks didn't attach themselves to me so I just used my fingers [to get them off]."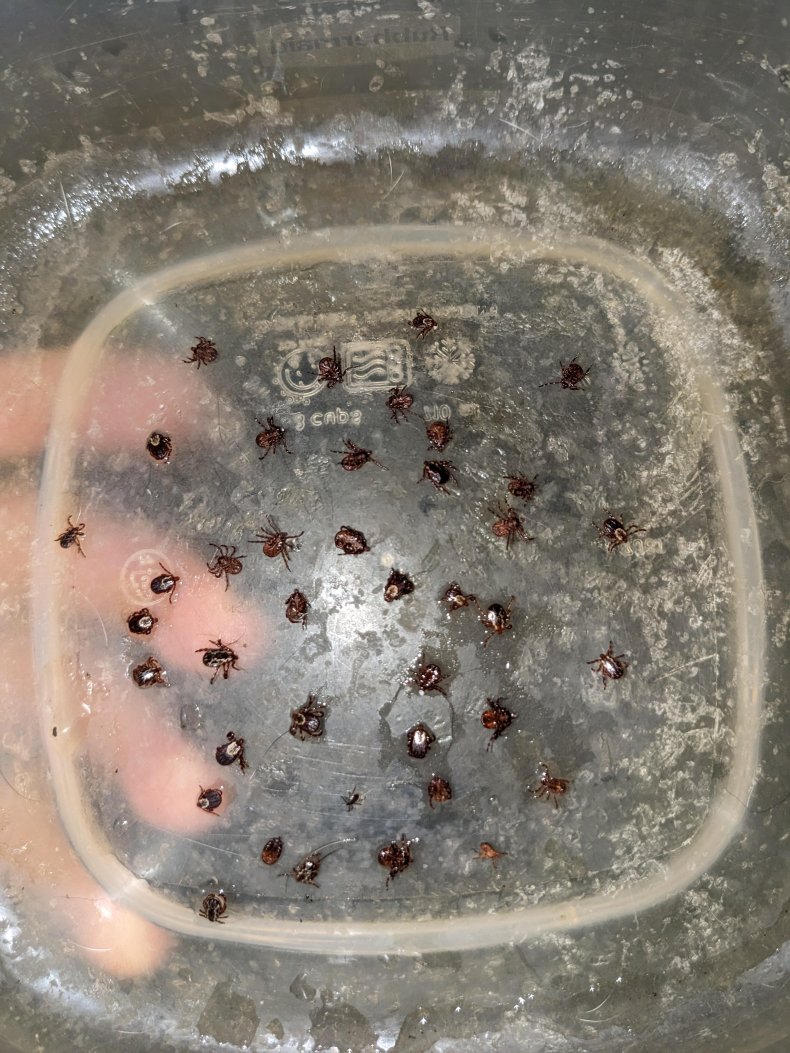 The ticks were also all over his dog.
Taking to Reddit, voltrodeath3 shared the skin crawling experience. "Ten-minute walk and I end up covered in about 40 ticks. Kill me," he said in a post on May 14, along with a picture of the ticks.
The post has received over 57,000 upvotes on the subreddit r/mildlyinfuriating and a further 13,000 upvotes on r/Wellthatsucks.
"The blood drained from my face after seeing this pic," said one user.
"Where do you live so I can stay the hell away from that area," said another.
Voltrodeath3 said that ticks were very common in the area, although usually not in such large numbers. "We have had a few years where they were really bad, but this is probably the worst I've ever seen," he said. "I like to take walks with my dogs all the time. But maybe now I'll reconsider lmao."
Although finding a bulging, blood-sucking insect on your body is never fun, the diseases that ticks carry can be even worse. When a tick finds a suitable feeding site—i.e. your leg—it grasps the skin and cuts into the surface, inserting its feeding tube and its saliva, which may contain various disease-causing microbes.
In the U.S. ticks are known to carry Bourbon virus, babesiosis, Rocky Mountain spotted fever and Lyme disease, to name a few. Not all ticks will carry these diseases, but the CDC recommends seeing your doctor if you come down with a fever, aches and pains or a rash after being bitten.
Wearing long clothing can reduce your exposure to these insects, but it is not a guarantee. "I was wearing jeans and a regular T-shirt at the time [but] there was a lot of tall grass in the area so I believe that's where they came from," voltrodeath3 said.
To avoid tick bites, the CDC recommends using EPA-registered insect repellents and avoiding areas with high grass and leaf litter. You should also check your clothing and body for ticks after long walks outdoors.