Man Dragged for Leaving Family With $100 for Christmas to Attend World Cup
Internet commenters were outraged after one stay-at-home mom revealed why she was left with just $100 to cover Christmas decorations, food and gifts for her three children.
In a viral Reddit post published on r/AmITheA******, Redditor u/NoChristmas2022 (otherwise referred to as the original poster, or OP) said her husband is the sole breadwinner for the couple's household and detailed the heated aftermath of his decision to attend the World Cup in Qatar instead of preparing for the holidays with their family.
Titled, "[Am I the a******] for not doing anything for Christmas this year and making my husband livid?" the post has received nearly 18,500 upvotes and 4,000 comments since November 20.
"My husband works full time and gets an okay salary BUT he's tightened the grip on spending...to be able to save up to go watch the football event overseas," OP began. "He's literally obsessed."
Continuing to explain that she is responsible for all Christmas preparations because her husband won't return until December 20, the original poster said she was told there would be a chunk of money left over after World Cup expenses to prepare properly.
Unfortunately, the original poster also said she was left with only $100 to purchase decorations, food and gifts for the couple and their three kids.
"I was completely shocked," OP wrote. "I told him $100 for an entire family's Christmas celebration was ridiculously not enough.
"He told me to just 'take it' but I said that if he decided to leave me with just 100 bucks then I won't be doing anything for Christmas," OP continued. "He's in Qatar now...[and] he just kept sending angry message after [angry message] calling me 'spoiled.'
"[He's] telling me to stop expecting to live like I was still living in my parents house and to stop trying to 'rob' the kids of enjoying the holidays," OP added. "He's livid saying I'm punishing him for going and trying to guilt him using his own money."
Shared finances can be tricky for working couples, and even more complicated when just one partner is earning an income.
Last year, a study published by LendingTree's MagnifyMoney showed that 53 percent of U.S. households are dual-income, marking a slight increase from 2010.
The umbrella that is "U.S. households," however, includes families with adult children capable of earning themselves.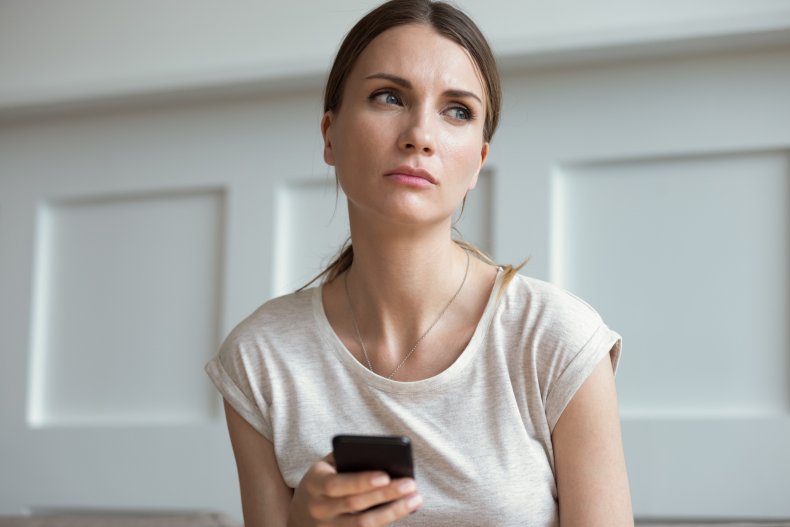 In 2018, Pew Research Center reported that 18 percent of mothers and fathers in the U.S. are considered stay-at-home parents, meaning 11 million American parents were not working outside of the home. And as the work-from-home revolution had not yet occurred in 2018, parents not working outside of the home were unlikely to have been generating income.
For couples with just one earner, finances can be a sensitive topic and cause great emotional distress if handled incorrectly and without transparency.
Amanda Clayman, financial therapist and M.S.W., told Newsweek that non-earning parents who are left in the dark concerning their family's finances can feel rejected and left out of decision-making processes that directly affect their lives, as well as the lives of their children.
"In this picture of marriage, we want each person to feel like they can pursue their dreams," she said. "But it's not really for one person to claim that."
Clayman also told Newsweek that for stay-at-home parents whose top priority is their children and their family, making the realization that their spouse's priorities are different can be disempowering, especially considering the disparity in financial capabilities.
Throughout the comment section of the viral Reddit post, many Redditors echoed that sentiment and encouraged the original poster to seriously reevaluate her marriage.
"This sounds like financial abuse," Redditor u/Mama_Mush wrote in the post's top comment, which has received nearly 40,000 upvotes. "[It's] ultimatum time.
"[Either] he treats you as an equal financially or you leave and get child support," they added.
Redditor u/AffectionateHand2206, whose comment has received more than 12,000 upvotes, was more urgent in their response.
"As has been pointed out, this is called financial abuse," they wrote. "Take your kids, go to your parents, have a beautiful Christmas without your husband and get a divorce."
"You and [your] children are at the very bottom of his priority list," Redditor u/9smalltowngirl added, receiving nearly 4,000 upvotes. "That is not going to change."
"OP you're [Not the A******] and if you have any other family to spend the holidays with please do that instead," Redditor u/pepperann007 chimed in.
Newsweek reached out to u/NoChristmas2022 for comment. We could not verify the details of the case.
Do you have a similar monetary dilemma? Let us know via life@newsweek.com. We can ask experts for advice, and your story could be featured on Newsweek.