Man Dressed As Clown Who Offered Children Candy Was Celebrating His Birthday And Meant No Harm, Cops Say
A man caused a stir in a small Tennessee town this week when he approached several children and offered them candy while dressed as a clown.
The incident happened in Clarksville, Tennessee, located 49 miles north of Nashville, on Thursday and quickly drew the attention of the Clarksville Police Department, WSMV-TV said.
The police said they received calls from a pair of fifth-graders who were approached by a man in a gray or silver sedan and that he had gestured for them to come to the car and offered them candy. Instead of going towards the car, the students ran away from the area and called police, telling them that the male had his face painted white and was wearing a red nose.
Another witness, who spotted the car at a separate location, also called the police to report the man, the police said.
According to a Facebook post from the Clarksville Police Department, the man, who has not been identified, was located later on Thursday and had meant no harm to the children by offering them candy.
"He is an older man who dresses up once a year on his birthday as a clown and hands out candy Today, is his birthday," the post said, "We went to a couple of places where he frequents and they verified he was at those places this morning dressed up as a clown. They say is a nice man that dresses up and is known to give out candy. Police had contact with him and he said he had been dressed up as a clown and did not mean any harm."
"There was also nothing that indicated police that his actions were intentionally harmful or meant to scare anyone," the post continued. "EVERYONE CAN NOW BREATHE!!!! Thanks to those that helped us solve the mystery and to make contact with the man."
The man is reported to be in his 70s, the police said.
While some comments understood the concern expressed by witnesses, they found the man's gesture to be sweet while others said he should be more aware of the type of problems that could arise from someone trying to offer candy to children while dressed in a costume.
Another commenter suggested that a school or a local business offer to help the man set up a spot to distribute his candy on his next birthday so that he could still perform the kind gesture but not cause a panic in the community. According to the New York Times, the man had already visited several local businesses and his attempt to give the candy to the children was an effort to get rid of the remaining candy.
The random appearance of clowns has been a concern for several years after numerous reports of people dressed in outfits and lurking in different places — including bus stops, backyards and near schools. The sightings seemed to spike in 2016 with some saying that the clowns were a marketing ploy to drum up attention for the It movie, which was released in September 2017.
However, appearances of clowns continued into 2018.
The appearance of the Clarksville clown, coincidentally, occurred the same day as the trailer for It Chapter 2 was released.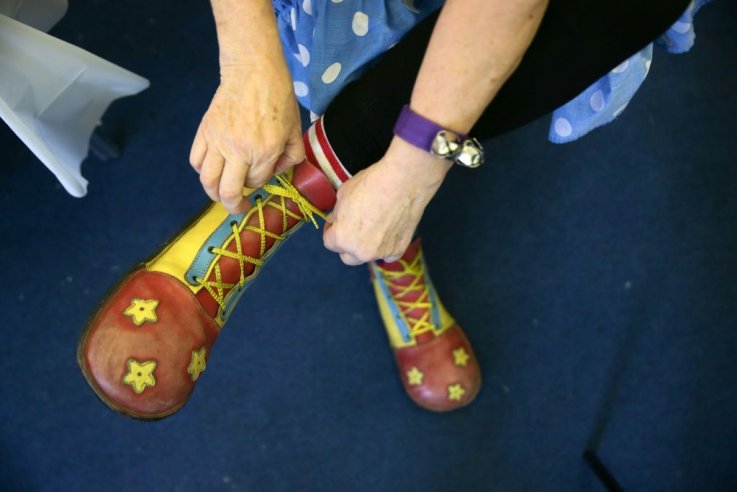 Man Dressed As Clown Who Offered Children Candy Was Celebrating His Birthday And Meant No Harm, Cops Say | U.S.