Man Dropping Engagement Ring in Lake Mid-Proposal Leaves Internet Cringing
A sweet proposal turned sour when a man dropped the engagement ring that fell into a lake in Norfolk, United Kingdom, as seen in a TikTok video viewed more than 3 million times.
Gerii Ashforth posted the video to her account @geriiashforth on June 18 showing the moment that the ring slipped out of the hands of Ross Bamber, her partner. After the ring dropped to the floor of the deck, it bounced and a small splash is heard.
A study conducted by The Knot found that 86 percent of proposals are planned in advance.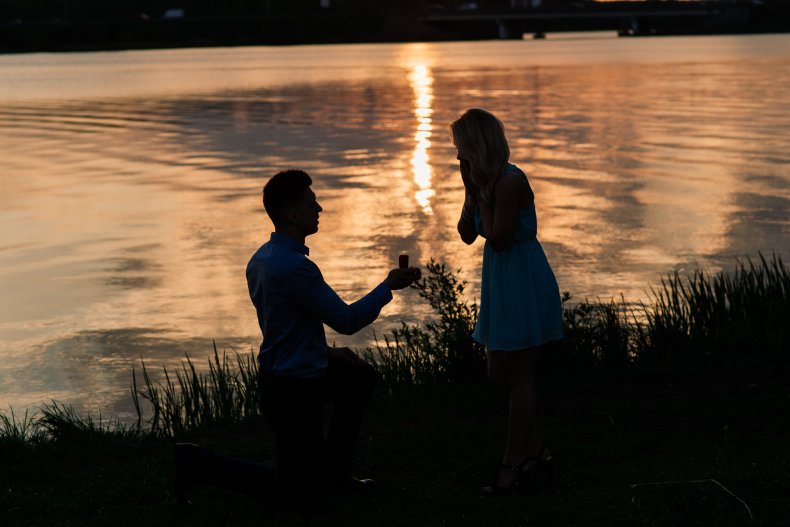 Before proposing, the outlet recommended practicing what to say and do and ensuring everything is prepared for the day.
"Touch base with necessary friends and family members to share the details and confirm that you have all the food, drinks and decor you need for the special occasion," the piece stated. "Preparation is key for ensuring your engagement goes off without a hitch."
In her video, Ashforth is seen covering her eyes as Bamber pulls the ring from his pocket and prepares to kneel.
However, the ring is heard thudding on the floor before it fell into the lake. He covers his mouth in shock and Ashforth kept her hands over her eyes.
"That wasn't what I thought it was," Ashforth said before the video ended.
The turn of events prompted viewers to weigh in and share their own thoughts.
"Time to go magnet fishing," a viewer wrote.
"You need to get the scuba diving gear out," commented another.
Many asked if the couple managed to find the ring and if it was insured. Ashforth replied to the questions in the comments section and said they could not find the ring and it was uninsured.
Though dropping the ring into the lake was a setback, Bamber proposed to Ashforth with a second ring in the same location.
The second proposal was also captured on camera and posted to Ashforth's TikTok account. This time, the ring—which Bamber purchased the following day—made it on her finger.
Many congratulated the newly-engaged couple, while some wondered why they decided to have their proposal in the same location where the first ring was lost.
"I would have laid a blanket down for round 2," a comment read.
"This was a brave move at the same location," another viewer wrote.
Newsweek reached out to Gerii Ashforth for comment.
Other proposals have previously gone viral.
A video that went viral on the Reddit forum "I Am A Total Piece of S**t" shows a Disney employee that interrupted a couple's proposal.
Another proposal was shared on TikTok and went viral after it drew some inspiration from the 1999 movie 10 Things I Hate About You.
One photographer's lucky shot of the moment that a couple became engaged at the Grand Canyon went viral on Reddit.