Man Dubbed 'I-4 Bandit' Charged in Florida Holdup Months After Prison Release
A serial bank robber in Florida who earned the nickname "I-4 bandit" and was released from prison in June was arrested Tuesday after a brief police chase, charged in the robbery of a Wells Fargo branch, the Associated Press reported.
David Marc Ratcliff, 55, had served most of a 25-year prison sentence after being convicted for six Florida bank robberies in the 1990s, although he was suspected in as many as 19.
The streak of robberies were all at banks near the highway that runs diagonally across central Florida, Interstate 4, spawning the "I-4 bandit" moniker.
Just before 11 a.m. Tuesday morning, Clearwater police received a call reporting a robbery of the local Wells Fargo branch, with a man fleeing in a red Dodge Magnum, police said.
Less than a half hour later, Ratcliff was arrested in the nearby town of Belleair Beach following a short chase that included a helicopter and a K-9 unit, according to WFTS, a Tampa Bay ABC News affiliate
A detective saw the vehicle at a nearby gas station following the robbery and attempted to perform a traffic stop, causing Ratcliff to flee, police said. A Pinellas County Sheriff's Department helicopter tracked the car to the nearby Gulf Coast town.
Ratcliff was found there attempting to steal a pickup truck and was fought off by the truck's owner before being caught by a police dog, according to Clearwater Police Chief Daniel Slaughter.
He was taken to a local hospital before being transported to the Pinellas County Jail, according to WFLA News, a Tampa Bay NBC affiliate.
"Thanks to information from witnesses, alert Clearwater Police detectives and the Pinellas County Sheriff's Office, we are grateful," Slaughter said in a press release.
Earlier this month, Ratcliff was reportedly sought in two other bank robberies in Temple Terrace and St. Petersburg, two cities near Tampa Bay.
For more reporting from the Associated Press, see below.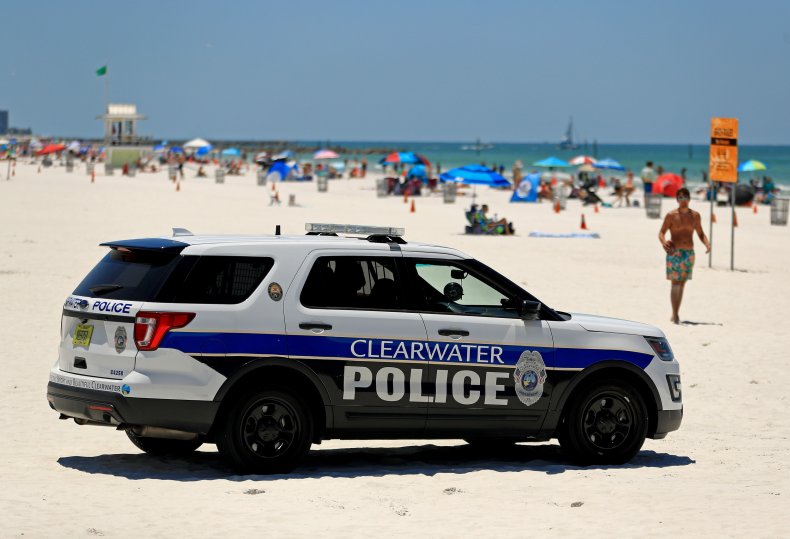 It wasn't immediately clear whether Ratcliff had a lawyer to represent him. The amount of money involved in the bank robbery was not disclosed and authorities did not say whether the suspect was armed. No injuries were reported.