Man Dubbed 'Pool Patrol Paul' Asked Black Woman for ID At Neighborhood Pool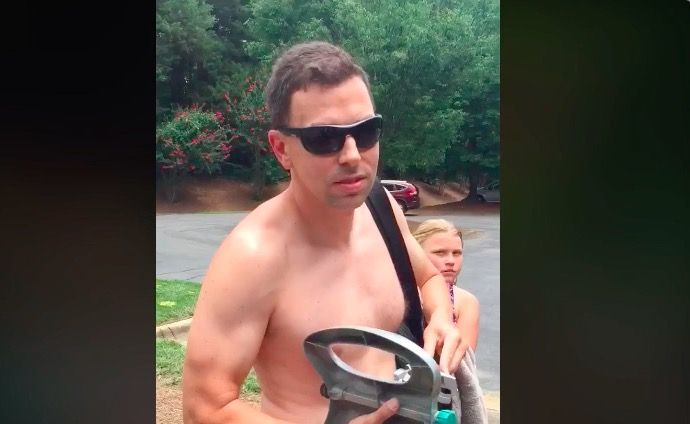 Adam Bloom, the pool chairman of a North Carolina subdivision homeowners' association, asked Jasmine Edwards for identification proving she was a resident and able to use its pool on July 4, in an incident that Edwards is labeling classic racial profiling.
The Winston-Salem neighborhood where she, a woman who is black, and Bloom, a man who is white, live has a neighborhood pool that's available exclusively for residents to use, according to the New York Post.
Edwards's video, which she posted on Facebook, picked up the encounter after she's asked to show identification to prove she lives in the neighborhood. In the video, she told Bloom and two officers who had been called to the scene that she was the only one asked to provide identification and that there's no ordinance that calls for people to prove their residency.
"I feel this is racial profiling. I'm the only black person here with my son in the pool," she said. "And he walked only to me to ask for my ID."
Edwards continued to explain that he asked for her address, which she supplied, and then returned to ask for identification because he didn't "catch" her address. In his defense, Bloom pointed out that almost every week he asks various people for identification.
The pool uses swipe cards, which Edwards said she used to enter the pool, and officers suggested that having the swipe card should be enough. To confirm the card's validity, Bloom requested that officers use it to open the gate leading to the pool.
When swiped against the monitoring system, the gate opened and officers apologized to Edwards for the altercation and wasting her time. During a conversation with officers, Edwards inquired about what her options are in charging Bloom with racial profiling, which she was told would be a civil suit.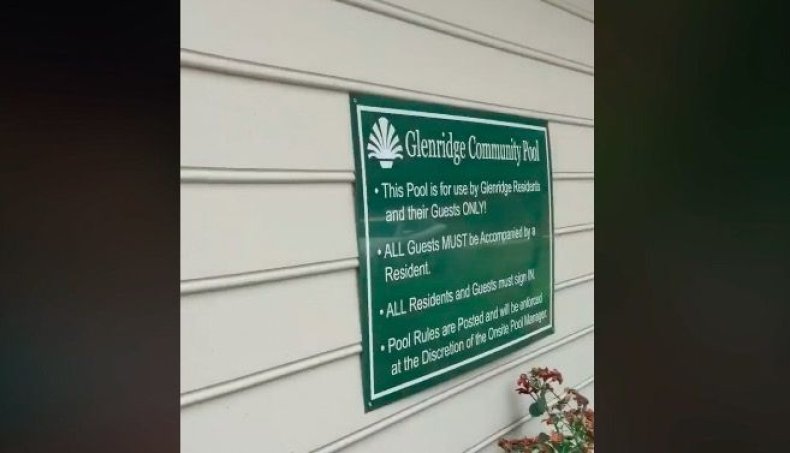 Newsweek reached out to Bloom's lawyer, John Vermitsky, but did not receive a comment in time for publication. However, he told the New York Post that while it's not "unreasonable" for people to perceive it as a case of racial profiling, that isn't what his client was doing.
"But it's dangerous when we paint with a broad brush and label that as being the motivation for all these things," he added. "This poor guy is being crucified…for doing something he was appointed to do."
Vermitsky added that Bloom is having a "very difficult situation" in dealing with "pretty undeserved" backlash that includes nonstop phone calls and death threats. The lawyer explained to the New York Post that his client was put in an uncomfortable situation, but remained calm and never made "any racial epithets or anything."
The video has been viewed over 100,000 times, and Twitter users related Bloom to a woman dubbed "Pool Patrol Paula," who allegedly hit a teen who is black, because he and his friends were using the pool, according to CBS News.
Both "Pool Patrol Paul," and "Pool Patrol Peter" started circulating on Twitter, including by The Barbershop Show creator Terry Hollimon.
Others gave him the nickname "ID Adam" and called for his termination from his job.
In a statement posted on Twitter, Sonoco, where Bloom was employed, said the company is aware of the "terrible incident" that was "well-documented." Given that the activities don't reflect the company's "core values," Sonoco announced that Bloom is no longer employed at the company.
"On behalf of our more than 20,000 teammates around the world, we extend our sincerest apologies to all who have been hurt by this incident, especially Ms. Edwards and her family," the statement concluded.
Newsweek reached out to Edwards but did not receive a response in time for publication. On Facebook, she called the incident a "shame" and a "classic case of racial profiling."
The Glenridge Homeowners Association told the Winston-Salem Journal that it regrets what occurred and "the pool chair escalated a situation in a way that does not reflect the inclusive values Glenridge seeks to uphold as a community."
Bloom resigned from his position and as Vermitsky explained to the Winston-Salem Journal, that isn't indicative of him doing something wrong, but was an effort to steer negative publicity away from the association.