Man Erects Huge Middle Finger Sculpture During Planning Permission Protest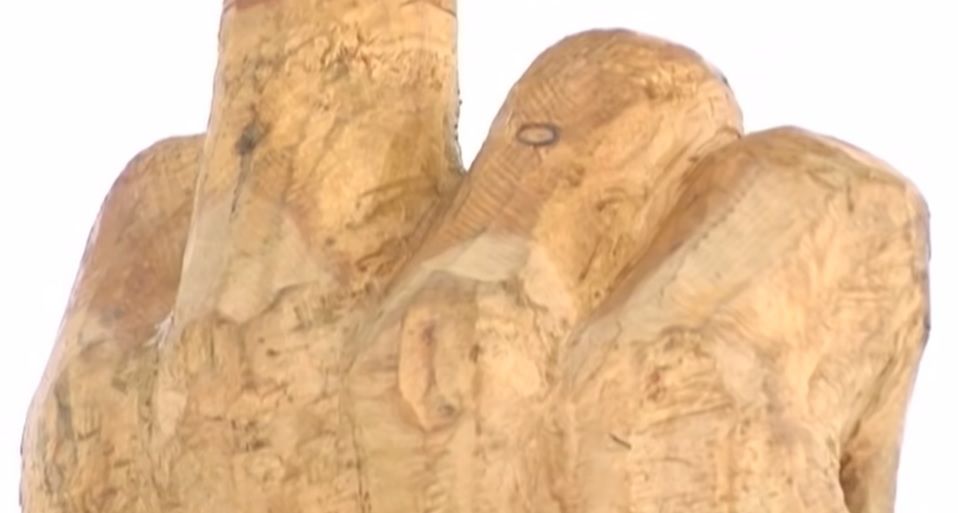 A Vermont man has built a huge wooden sculpture of a middle finger to vent his frustration, following an ongoing dispute with a local government.
Ted Pelkey claims he spent $4,000 to erect the sculpture on Route 128 in Westford, following an argument with town planners over whether he should be granted permission to expand his truck repair and recycling business.
"The sculpture's not out there for the people of the town, it's out there for the people who run our town," Pelkey told WPTZ.
Pelkey claimed the town's planning department has a personal vendetta against him because of his plan to move from Swanton into Westford in order to take on more business and cut costs.
Get your unlimited Newsweek trial >
The business owner claimed the sculpture, which towers over trees and buildings in the town, has been a long time coming.
"The strain has been there for 10 years, they don't like us. We're not treated fairly, that's what this is all about."
Speaking to WCAX, Pelkey reiterated how he feels being denied permission to move his business is entirely personal.
"In my eyes, if somebody tells you they hate you right up front, it's a hate crime," he told the station.
Get your unlimited Newsweek trial >
"'I'm hoping we can get it through to the people in the town of Westford to have a really long look at the people who are running their town."
According to Development Review Board minutes from last year, reviewed by WCAX, the board expressed concerns about how new development building would be used.
Local residents have expressed mixed views about the large middle finger protruding over the town.
"You can't believe somebody went through all that work," Carol Jordan told WCAX. "It's very big. Everybody got the message. But a lot of work went into it."
"It's very odd," Deanna Wilcox, of neighboring Fairfax, said. "And certainly not the love that I hope everybody is spreading in the world today that we really need."
Mark Sustic added he "wasn't offended" by the sculpture. "It's somebody's expression and it didn't hurt anybody as far as I know except for maybe somebody's feelings."
When asked about the sculpture, the Westford Select Board said they cannot take it down as it is considered public art.
Man Erects Huge Middle Finger Sculpture During Planning Permission Protest | U.S.