Man Escapes From Stretcher, Flees Ambulance in Video Viewed 6.9 Million Times
A now-viral video, showing what appears to be a man escaping from a stretcher, has caught the attention of viewers online, sparking a conversation about the often-prohibitive costs associated with healthcare and medical treatment in this country.
The clip, found here, was shared by TikTok user Meredith Scharinger last week. It appears to have been filmed from a vantage point high above the street. Below, viewers catch a glimpse of paramedics loading a man into an ambulance via stretcher. The man, however, wriggles his way off the stretcher and starts bolting down the street.
As he runs, the man turns a sharp corner, knocking over a waiter in his path before stumbling. He immediately stands up and continues to flee.
Explained Scharinger in a conversation with Newsweek: "We were watching these two guys [from the office I work in] on a bench that fell asleep and were clearly very drunk." She then "started recording when a police man approached them and then the ambulance came."
"I'm assuming that they called the ambulance because the two guys were unresponsive and passed out on a public bench," she added. "And right as he was about to get into the ambulance he broke free and ran!"
The video has been viewed 6.9 million times since it was posted four days ago, racking up over 228,000 likes and 4,000 comments. Meanwhile, the reason for the man's escape attempt remains a mystery: even Scharinger said she was "not sure" why he fled the scene.
"I'm not sure what his immediate thoughts were, I feel like he was just drunk and didn't want to go to the hospital and continue celebrating," she explained. Viewers, however, haven't hesitated to share plausible, albeit unverified, theories.
A significant chunk of commenters suspected that the man's escape was tied to the price tag associated with an ambulance ride—meaning that he might have been fleeing medical treatment to avoid future debt.
One viewer wrote: "I'd do the same thing if people were trying to put me in an ambulance. Ain't no way I'm paying for that wee woo taxi."
"Tell me you live [in] America without telling me you live in America," echoed one blunt commenter.
Added another: "He realized that ride would cost him more [than] he could ever afford."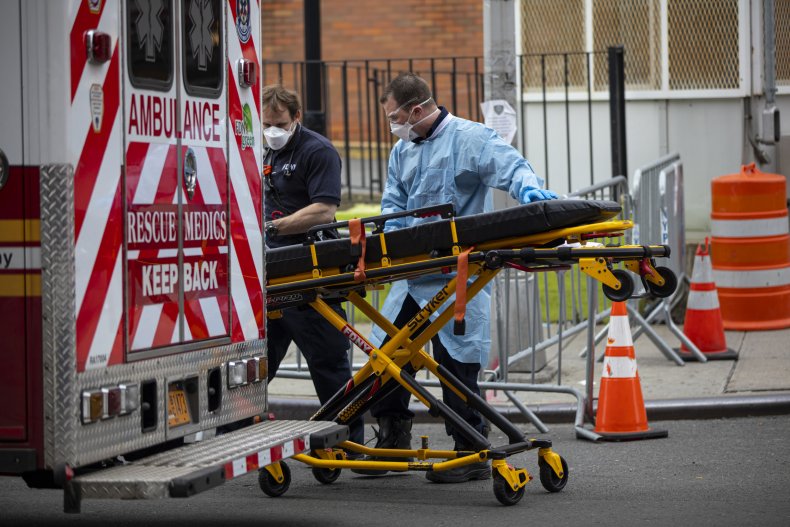 According to HealthCareInsider, "​​ambulance bills can exceed $1,000 and occasionally even reach $2,000." And while insurance can certainly lessen that burden, not everyone has access to comprehensive healthcare plans.
Medical debt more broadly has become a pressing issue to Americans in recent years. The U.S Census Bureau reported that, in 2017, 19 percent of households "could not afford to pay for medical care up front or when they received care." For those carrying medical debt, the median amount owed was $2,000. Moreover, medical debt is not experienced evenly across the population: Black Americans are disproportionately burdened by medical debt compared to those identifying as white, Hispanic or Asian.
The numbers are only expected to increase as the COVID-19 pandemic rages on. As of March, "as many as 12.5 million Americans could already be saddled with COVID-related medical debt"—a number that might increase with continued cases and the ongoing challenges of COVID long-haulers.
Updated 07/28/2021, 1:00 p.m. ET: This story has been updated with a statement from Meredith Scharinger.