Passenger Escapes United Airlines Flight by Popping Emergency Hatch and Coasting Down Inflatable Slide: Report
Updated |
A United Airlines flight waiting to depart Newark, New Jersey, for Tampa, Florida, was delayed for about five hours on Sunday evening after a passenger allegedly opened the emergency escape hatch and exited using the inflatable slide.
United Airlines Flight 1640 was parked on the tarmac at Newark Liberty International Airport when, moments before departure, a visibly panicked passenger allegedly escaped the plane using the emergency exit. The passenger later told police that "he didn't belong on the plane because it was the wrong flight," NBC New York reported.
United Airlines confirmed the incident in a statement to Newsweek.
"While Flight 1640 was parked at the gate at Newark Liberty International Airport, a passenger opened the emergency exit door and departed the aircraft using the slide," a representative for the airline said in the statement. "Following an aircraft swap, the flight departed for Tampa at 12:09 a.m. local time."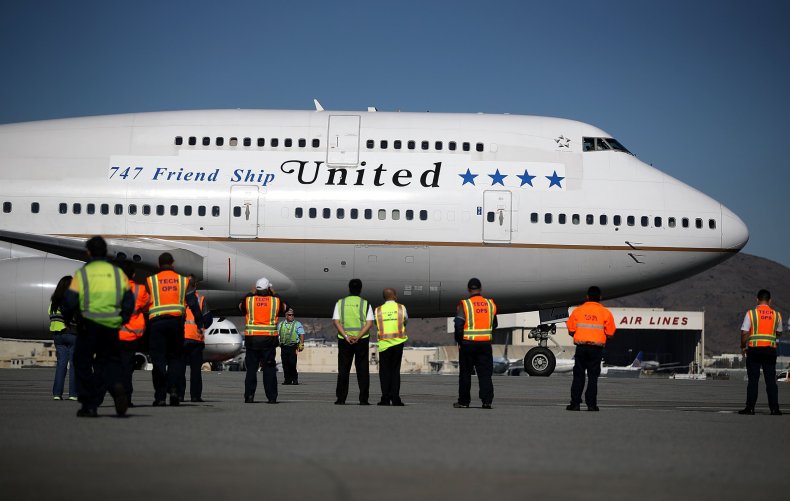 The airline did not immediately say whether or not the passenger would be allowed to fly United in the future.
Three hours into the delay, a passenger who was aboard the plane when the incident occured tweeted that some "wacko" had delayed the flight. She posted a picture of police taking the man away in handcuffs.
Video footage obtained by NBC New York showed the passenger, whom the station identified as Troy Fattun, 25, being led off the tarmac by two police officers. According to the Port Authority, officers arrested the man, with charges pending.
This is hardly the first time a passenger has attempted to flee a plane via the emergency exit. Earlier this year, a man "fed up with waiting" on a delayed Ryanair flight from London to the Spanish city of Málaga used the emergency exit to jump onto one of the plane's wings, CBS reported at the time.
In 2010, on a JetBlue flight, a flight attendant infamously announced over the intercom that he was quitting his job. According to multiple reports, the attendant then chugged two beers and escaped the plane using the evacuation slide.
Update: This article has been updated to include comments from passengers on the delayed plane.