A Delaware man built a massive Christmas light display on his front lawn with thousands of LED lights for the holiday season and said he wouldn't be surprised to see his electricity bill cost $500 more this year.
Delaware News Journal reported how Manny Duarte, 55, powers up 24,000 LED lights in his front yard for a holiday light show that matches the music from 97.7 FM so everyone can enjoy the Christmas spirit.
The thousands of LED lights cover trees, stars, and archways in his front lawn plus he has two 10-foot high screens with images that match the song playing. The light display costs an estimated $20,000.
Duarte says he expects the electricity bill to cost triple the amount this year to run 20,000 lights compared to the $135 increase it cost to run last year's show which only had 7,000 lights.
The extra money to run the holiday show doesn't bother Duarte. "All I care about is I just want people to come and look at it – that's all," he told Delaware News Journal.
He said he's not asking for donations or money to run the light show. "I just want people to come and enjoy the show."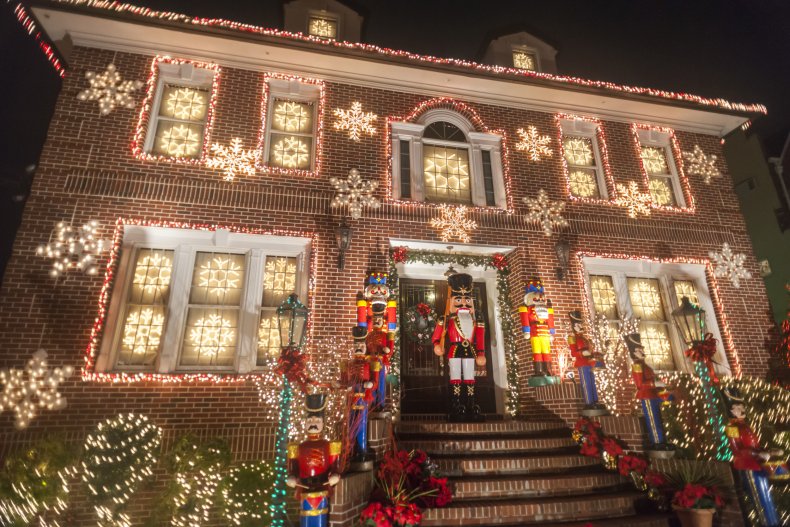 Duarte is an IT specialist and he programs the lights himself to sync with the 12 songs he picks for the holiday show. Each song takes anywhere from three to eight weeks to program.
Some of the songs in this year's show include Christmas tunes like Kelly Clarkson's "Underneath the Tree," and Mariah Carey's "All I Want for Christmas is You," but he also likes to add in other songs such as The Weeknd's "Blinding Lights."
Duarte says he begins planning for the light show in March. The first Christmas light show had 7,000 lights. This year he tripled the number of lights, but he doesn't think he will do that again.
"If that happens, I think my wife will kill me."
He said it takes him two months just to move the props for the Christmas show from his basement.
"In that time, my house is a total disaster," he said.
He also decorates for Halloween and creates a smaller light display with tombstones and spiders. Once the holiday is over he takes down the lights and immediately starts setting up the Christmas lights, and puts up most of the decorations himself.
Duarte says there is a simple reason as to why he decorates the front yard instead of the house, because his wife doesn't allow him to.
"My wife told me I can pretty much do whatever I want, I just can't make holes in the house," he said.
Duarte told the Deleware News Journal he's already thinking about what to do for next year's Christmas show.
"One thing I really want to do is add a nativity scene because that is what Christmas is about. So anything I can do to spread that message, I'd like to do," he said.