Man Faces 20 Years in Prison for Setting Fire at Seattle Police Precinct With Officers Inside
Amid growing unrest in Seattle, a 19-year-old from Alaska faces 20 years in prison for allegedly setting a fire at the Seattle Police Department's East Precinct as others attempted to trap officers inside the building.
Desmond David-Pitts was arrested following a Monday night protest march and charged with arson on Thursday. Officials were able to track David-Pitts down by the distinctive clothing items he was wearing when captured on security footage. Upon his arrest, he admitted to setting a fire at the East Precinct, according to a criminal complaint.
About 30 or 40 feet from where David-Pitts set a fire, the complaint says other people used a metal rod to barricade the door to the precinct and rapidly drying liquid cement to seal it shut. This was an attempt to prevent officers from being able to get out of the building, officials said.
"This is the fourth defendant to appear in federal court after being charged with criminal conduct that went far beyond any peaceful protest," U.S. Attorney Brian Moran said in a statement. "Those who go to protest but choose violence and criminal acts over protected speech will face the full weight of federal criminal sanctions. This illegal conduct must end."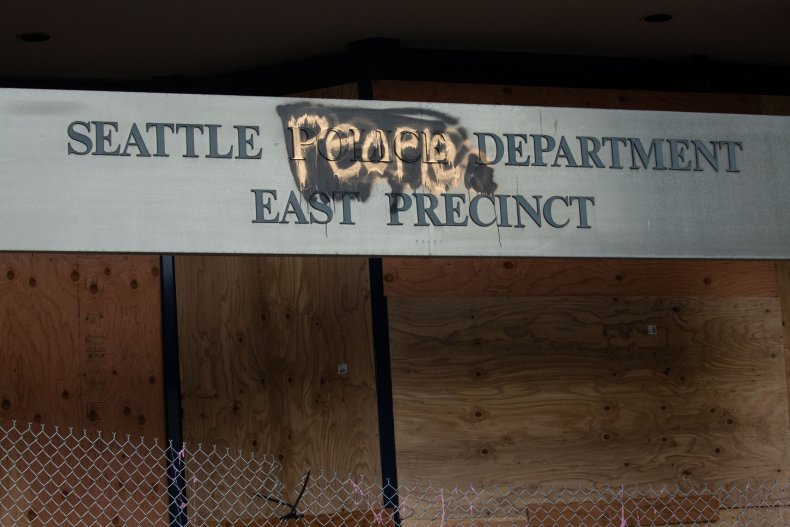 Officers were able to exit the precinct and extinguish the fire, a blaze that Seattle Police Chief Carmen Best called an "organized, pre-planned attack" on officers.
Monday's unrest was in response to a Kenosha, Wisconsin, police officer shooting Jacob Blake, a 29-year-old Black man, multiple times in the back. The scene was similar to those Seattle experienced after George Floyd's May 25 death, when peaceful daytime protests turned violent at night.
Best, who said her family members joined demonstrations after Floyd's death, drew a distinction between First Amendment rights to protest and the violence seen on Monday. Attempting to set the precinct, which was a flashpoint during the Capitol Hill Autonomous Zone protests, on fire was not an act of peaceful protest or demonstration, but an "act of lawlessness," Best said.
"We are grateful our federal partners at the U.S. Attorney's Office recognize the criminal nature of these acts and are holding those responsible accountable," the police chief said.
This isn't the first time the precinct has been a target of arson: On July 15, officials charged Isaiah Thomas Willoughby, 35, for setting a fire outside the police building. At an arraignment on August 13, Willoughby pleaded not guilty and will remain in custody until his jury trial that's scheduled for October 5, according to court documents.
If convicted, David-Pitts faces a mandatory minimum sentence of five years and up to 20 years in prison. He has not yet entered a plea.
Newsweek reached out to Assistant U.S. Attorney Todd Greenberg and Corey Endo, a public defender assigned to David-Pitts' case, for comment but did not receive a response in time for publication.