Man Faces Off With Squirrel During Conference Call in Hilarious Video
A hilarious showdown between a squirrel and a man was captured in a video that was shared on TikTok where it quickly went viral.
Posted by TikTok user @whoalaureik on September 16, the video amassed more than 2 million views as it showed the man screaming once the squirrel ran toward him.
"Just your average conference call," read the video caption.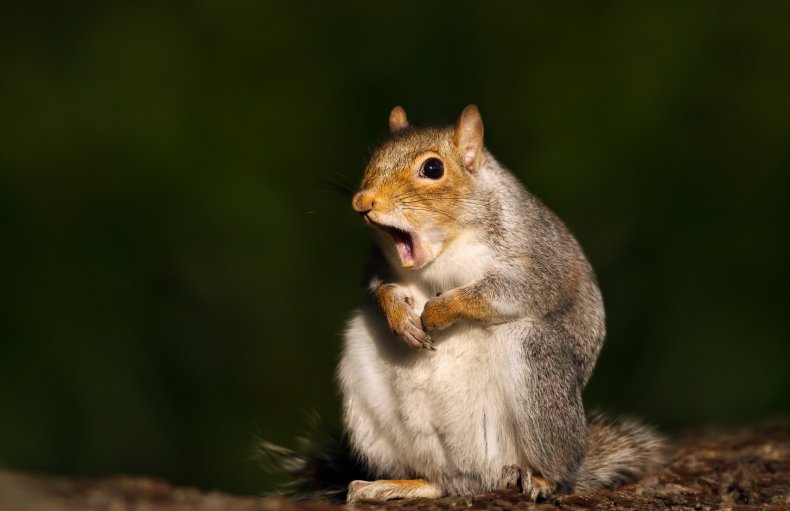 According to The Humane Society, a squirrel who found itself in someone's house will look for a way to get out.
"Place any pets in another room. Close all interior doors and open a window or exterior door in the room," the organization said. "Leave the squirrel alone, so they can find their way out."
If there is no exit available for the squirrel, a homeowner is advised to set a humane trap with peanut butter, then release the animal outside.
The video showed @whoalaureik's husband sitting at his desk while on his conference call when he abruptly swiveled his chair around to survey his office.
He looked around for a moment before turning around and grabbing a bat leaned against the wall.
Suddenly, he started yelling and backed into his desk as a squirrel appeared next to his chair.
"Go! Go away!" @whoalaureik's husband screamed before jumping on top of his desk.
The squirrel jumped toward the desk, prompting @whoalaureik's husband to leap back off.
He continued screaming and ran around the squirrel that was seen next to his chair just as the video ended.
This issue, according to @whoalaureik, has happened before.
"The squirrel had been breaking in and then hiding in the chimney for a couple days prior to this," she said in the comments section.
TikToker @whoalaureik said their house is surrounded by pine trees and the squirrels are "thriving."
Viewers took to the comments section to share their thoughts.
"All I can hear is Marv from Home Alone 2," a viewer commented.
"The squirrel is probably like, 'what! What!? Where is it!??" commented another viewer.
"At least he remained calm," one viewer joked.
"Imagine what the other guy on the conference call had to be thinking was happening...," a comment read.
TikTok user @whoalaureik has since shared several videos on her account that show other tense standoffs between her husband and squirrels.
Newsweek reached out to @whoalaureik for comment.
This is not the first animal video that has delighted viewers.
A video showing a cat's "zoomies" went viral on Reddit, while another clip showed a coyote playing with a dog's squeaky toy.
One viral clip showed the mess that came as a result of a woman feeding a giraffe at an English safari park.