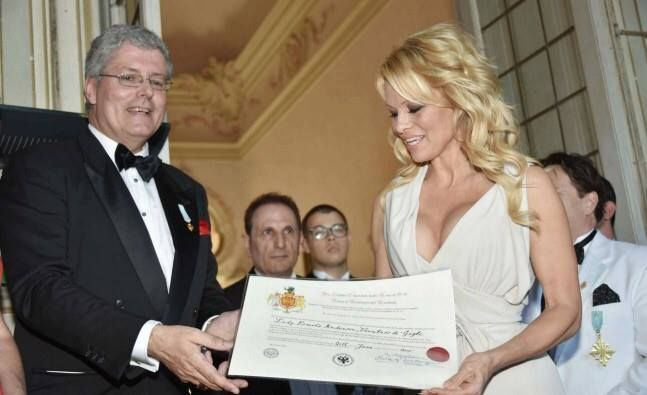 Italian police are trying to catch a man who fooled local authorities, diplomats and even actor Pamela Anderson into thinking he was a prince from Montenegro, a small country in eastern Europe.
The man, whom police have not named, called himself Prince Stefan Cernetic of Montenegro and Macedonia and set up a Facebook page and a website to show off his fake credentials. He was not alone in the fraud, as he traveled around with an associate who posed as his ambassador in Italy.
Police in the town of Brindisi, in southern Italy, charged the two men but did not release their names as they are still trying to arrest them. Local media identified the pair, who both had previous convictions, by their initials: 57-year-old C.S., the inverted initials of the prince he impersonated, and 63-year-old S.S., the fake ambassador.
The two men traveled around Italy in a Mercedes bearing the Republic of Montenegro's diplomatic plates and flags. But they attracted suspicion in August, when they spent a week in a luxury resort in Puglia—when the venue presented the bill to the Montenegrin Foreign Ministry, it refused to pay.
The authorities launched an investigation and eventually conducted a search in which they confiscated a number of counterfeit stamps, diplomatic permits, and certificates of international awards emblazoned with the Montenegrin coat of arms and logos.
The fake prince's Facebook page, created on February 2, 2014, attests to the variety of people he had met with, conferring worthless knighthoods, awards and other honors on many of them. Among his photos are businessmen, politicians, actual royals such as Monaco's Prince Albert II, and high-ranking members of the Catholic and Orthodox churches. His jet-setting schedule took him around Italy, France and Monaco. He requested that all inquiries and invites to events be sent to the email address haushofkanzlerei@gmail.com.
Prosecutors hunting the pair said, "This was in fact a pantomime staged to stay in prestigious Italian and European localities without paying," as quoted in the Italian news agency Ansa.
Though police are now seeking to arrest the Italian, several reports had flagged the fake prince's fraudulent activities before. The Wordpress website Fake Titles and Orders appeared to have uncovered the ruse in April 2014, and in November that year reported his meeting with Pamela Anderson, in which he claimed to give her a damehood.
Even in 2013 the Italian newspaper Il Fatto Quotidiano carried a report of a supposed "Prince of Montenegro" who demanded €50 ($56) for a meal in a Tuscan restaurant in exchange for a review on travel website TripAdvisor.