Man Falls to His Death While Painting NYC's Manhattan Bridge, Police Say
A painting contractor fell to his death, plunging 100 feet from the Manhattan Bridge in New York City on Wednesday, police said.
The man, whose identity has not been revealed, was painting the side of the bridge around 2 p.m. when he fell, said a spokesperson for the New York Police Department (NYPD).
The man, who NYPD confirmed to Newsweek was 37 years old, was located near Pike Slip and South Street, near FDR Drive.
Officials confirmed that the man was pronounced dead at the scene.
The man had been working with Champion Specialty Services, a subcontracting company, as part of a 10-person painting crew on the Manhattan side of the bridge.
In addition to the man who died, a 55-year-old man from the same crew also fell, landing on a low building below. He was taken to Bellevue Hospital with non-life-threatening injures.
The two men were both wearing safety harnesses, police stated, and were "switching locations where the harness was attached, there was strong wind, and they fell."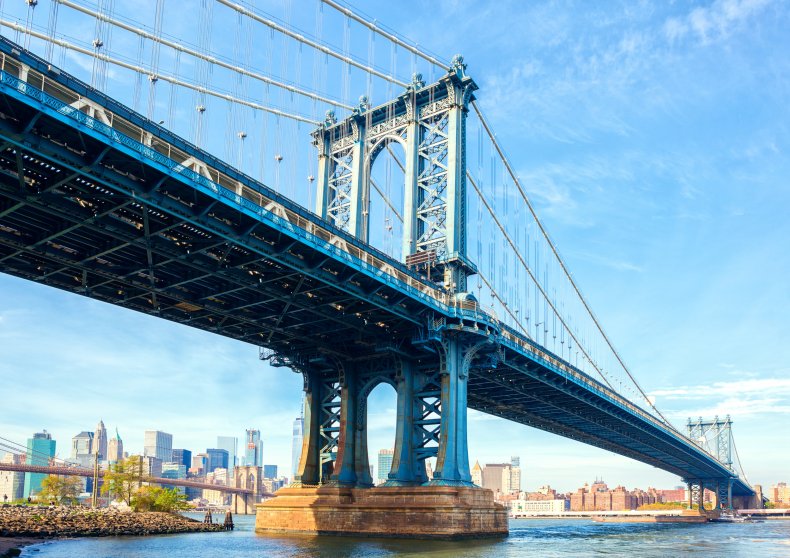 Police said that the men likely just lost their footing, and investigators did not suspect foul play or any criminality.
A spokesperson for the New York City Department of Transportation (DOT) confirmed in a statement that the man who died had indeed worked as a subcontractor for the department.
"This is a terrible tragedy and the victim's family and friends are in our thoughts," DOT spokesperson Seth Stein said. "It is too soon to determine what led to this incident with our contractor."
A witness to the incident, Jacqueline Hurd, 48, described the gruesome scene to the (New York) Daily News.
"[The man] was down on the ground. It was awful. They were holding a sheet over him. When they placed the sheet over him, it turned bloody. It gave me the chills," Hurd, a retired sanitation worker, said. "God bless his family."
"You've gotta say a prayer for all the guys working up there," she continued.
The area where the man fell was closed off. Additionally, numerous subways running the length of the bridge were halted or rerouted while investigators probed the deadly fall.
This caused delays on at least five separate train lines, city officials said.
The lower traffic level was also closed for a portion of time while investigators worked. However, all lanes of traffic were reopened by 4 p.m., according to a tweet from the NYPD.
Completed in 1909, the Manhattan Bridge connects Lower Manhattan to Brooklyn, and is approximately 1,480 feet long. In all, the structure contains seven separate lanes for passenger traffic, in addition to rail lines, a pedestrian path, and a bike path.