One man's close encounter with a bald eagle has captivated the internet, but not for all the right reasons.
A video uploaded by user SnooCupcakes8607 to Reddit's "Damn That's Interesting" forum has been upvoted 101,000 times. It features a man in an unknown location bird calling, only for a bald eagle to appear moments later. The man proceeds to feed the bird eggs during a close encounter most people only dream of.
The "magnificent" bird, as one user described, was praised in the thread by Americans and non-Americans alike. The bald eagle became the symbol for the United States back in 1782, due to its uniqueness to North America.
"You Americans picked a superb national bird; beautiful thing," u/07WoefulMatrix wrote.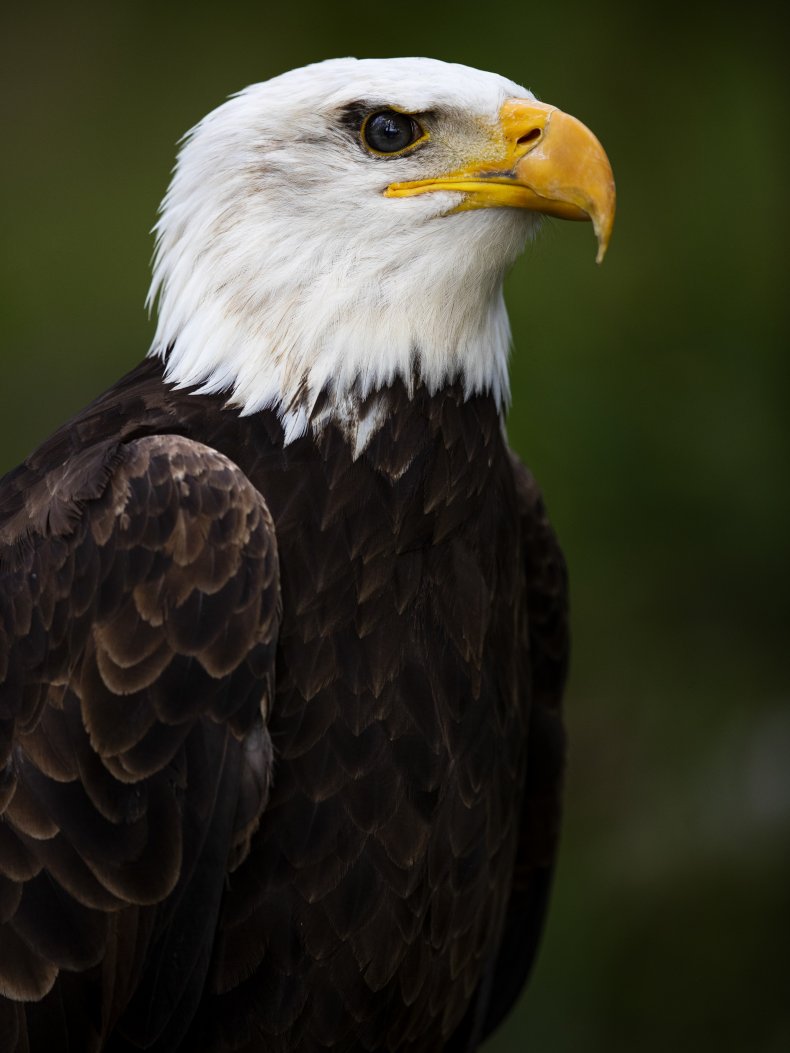 They tend to grow between 34 to 43 inches long, can weigh 8 to 14 pounds, and have a wingspan of 6 to 8 feet.
"Such a powerful creature, paired with that little skippy walk," one Redditor said. "I love it."
Another said, "After seeing them I can definitely see the dinosaur in it. Those talons make it look like a flying raptor."
But as noted by the Department of Energy and Environmental Protection (DEEP) based in Connecticut, the bald eagle population "went from being common in the early 1700s to extremely rare in the lower 48 states by the 1960s." A loss of habitat and nesting trees, food contamination by pesticides, illegal shootings, and food contamination resulting from the pesticide DDT are "widely accepted" for contributing to the species' decline—including similar "raptor-like species."
DEEP says that the bald eagle was first declared endangered when the federal Endangered Species Act was passed in 1973. As DDT use subsided due to bans and habitat protection measures were fostered, in 1995, the U.S. Fish and Wildlife Service reclassified the bald eagle from endangered to threatened in the lower 48 states. It was removed from the endangered species list altogether in 2007.
Feeding bald eagles is widely frowned upon, as noted by numerous Redditors. According to the U.S. Fish and Wildlife Service, the Bald and Golden Eagle Protection Act was enacted in 1940 and has been amended several times since then. It "prohibits anyone, without a permit issued by the Secretary of the Interior, from 'taking' bald or golden eagles, including their parts (including feathers), nests, or eggs."
One regulation defines disturbance to the species as "a decrease in its productivity, by substantially interfering with normal breeding, feeding, or sheltering behavior."
Rick Jacobson, now DEEP's bureau chief, told Newstimes in 2016 that "when bald eagles concentrate around a food source, birds will often fight over access to the food." Mature adults have attacked juvenile birds in the process.
In that same story, DEEP Wildlife Division Director Jenny Dickson said that baiting eagles for closer views or photograph opportunities "interferes with the birds' normal feeding behavior and promotes habituation and increased competition."
"It also encourages increasingly brazen behavior, which can ultimately put these majestic birds at risk," Dickson added.
The National Eagle Center, based out of Wabasha, Minnesota, states that the biggest threats to the species are human-made, including collisions with cars or electrical lines or even lead poisoning.
The species is described as an "opportunistic predator" that primarily eats fish, though it's not uncommon at all for it to consume squirrels, prairie dogs, raccoons or rabbits.
There was speculation in the Reddit thread that the man feeding the bald eagle was Canadian, due to his accent. In Alberta, Canada, for example, Global News reported that bald eagles are protected and no hunting season exists for such species. The maximum penalty for killing one of them is a $100,000 fine or potentially two years in jail.
Eagle sightings often make news, in fact, and not just the American bald eagle.
In December of 2021, a rare Steller's sea eagle visited Massachussettes for the first time, coming all the way from its home territory 5,000 miles away in Korea, Japan and eastern Russia.
And in England, two "incredibly rare" white-tailed eagles were found dead miles apart just a couple of months ago.