Man Films Himself Stealing Vial of COVID Vaccine to 'Test,' Says it's 'Poisoning People'
A Minnesota man posted a video of himself that appeared to show him stealing a vial of the Johnson & Johnson COVID-19 vaccine in order to "test it at a lab."
The man, who has been identified by his social media accounts as Thomas Humphrey, filmed himself at what appeared to be the beginning of a COVID-19 vaccine appointment at a CVS pharmacy on Thursday.
He can be heard saying, "I just want to read it. I just—you know, I'm taking the vaccine, I just want to read it," he then reached across a counter and grabbed a white box."
A woman who appeared to be a CVS employee tried to take the box back, saying, "Sir! Sir!" While he opened the box and pulled out a vial and presented it to the camera. "This is the vaccine in there? Thank you. I will be taking my vaccine here guys. We're gonna go test this, we're gonna bring it to the lab," he continued walking while CVS employees called for assistance.
Humphrey explained to the staff and to the camera that he was not going to be getting "his vaccine" in his arm, he was going to be taking an entire vial, which likely contains closer to enough doses for five people, with him to be "tested."
"I'm gonna investigate. Here, we'll trade. You can take the mask and I'll be taking the vaccine here. Don't touch me. This is my vaccine guys...this is poisoning people, so uh just taking my vaccine...We outta here."
The video continued while Humphrey got into his car to drive away from the CVS: "Glad they didn't lock the doors on me. She didn't wanna let me get it. But I got it again guys! It's the Johnson & Johnson one. I had to finesse that one a little bit." He seemed to be referring to a possible previous vaccine theft, which there are mentions of on Twitter, but Newsweek was not able to confirm this with video evidence at press time.
"Seems like they were expecting me or something. Praise the lord guys, I got a full vial this time. Full vial. And uh they're definitely calling the cops. But uh, let's check it out... yep Janssen COVID vaccine. Alright. To the lab we go," Humphrey continued.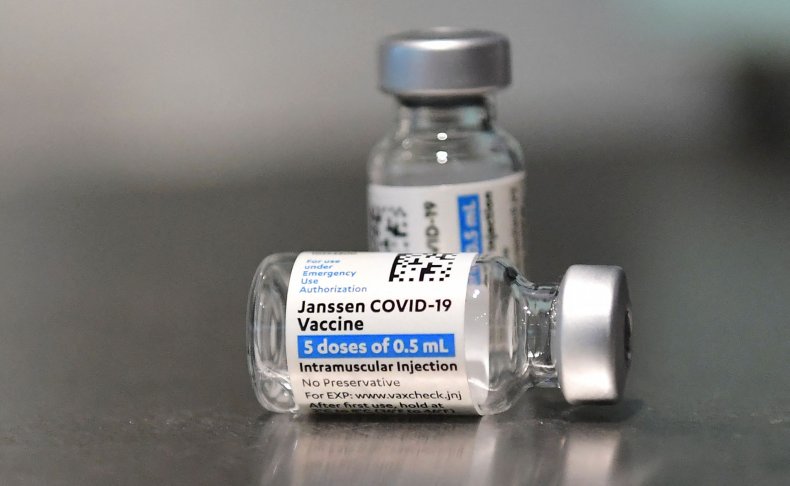 Shortly after Humphrey posted his initial COVID-19 vaccine theft video, he posted an additional video with the headline "My kidnappers have set me free."
He was arrested, booked, and then released from the Anoka County Sheriff's office with a charge of obstructing an investigation. The Anoka County Sheriff's department did not immediately respond to inquiries from Newsweek.
Humphrey has since posted photos of what appears to be two vials of COVID-19 vaccines in shipping materials to a Facebook account with this caption: "God is so amazing. We bout to find out what's in these vaccines. Just overnight them to an MD who has his own diagnostic laboratory. He will be taking a few samples out of each vile and sending it off to his friends for them to sample it as well..."
Newsweek has reached out to Thomas Humphrey for comment and this story will be updated with any response.