A man stumbled across a hilariously savage letter from the 1980s in an old house he's renovating, in which someone gave a woman called Christy a piece of their mind.
Redditor u/BrotherOfTheLeafMTL shared the weathered piece of paper to Reddit's Funny forum on Tuesday, where it's already been upvoted more than 40,000 times.
The dog-eared paper dates back to April 14, 1987, and details a spectacular, and juicy, falling out between two people.
Money, men and friendship all get called into question, as u/BrotherOfTheLeafMTL captioned the image: "Found this in a drawer at an old house we're renovating."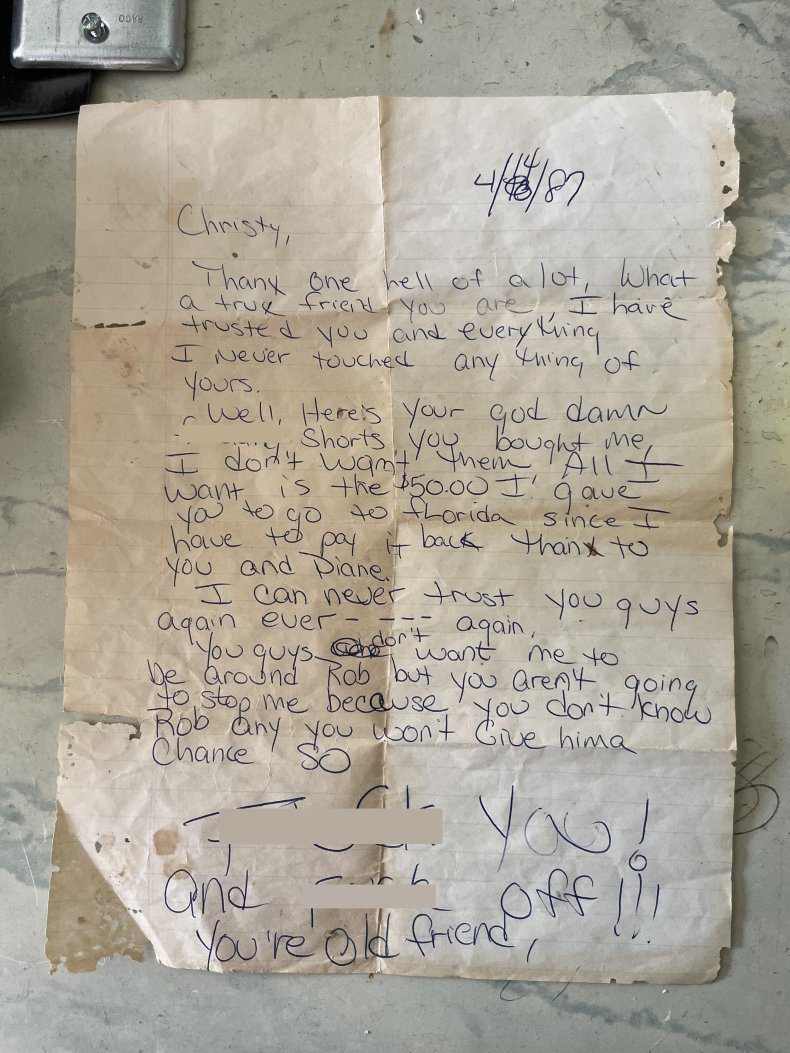 The scathing letter, found inside a home in Wilmington, Delaware, reads: "Christy, thanx one hell of a lot, what a true friend you are, I have trusted you and everything. I never touched anything of yours.
"Well, here's your god damn f*****g shorts you bought me, I don't want them, all I want is the $50.00 I gave you to go to Florida since I have to pay it back thanx to you and Diane.
"I can never trust you guys again ever - - - - again.
"You guys don't want me to be around Rob but you aren't going to stop me because you don't know Rob any you don't give him a chance so F*** YOU! And f*** off! You're old friend."
Numerous people found the letter hilarious, as MikeSantos89 joked: "You can feel the teenage anger."
Raeandray pointed out: "They even put a date on the thing like it was an essay they had to submit."
AlphaChewtoy thought: "So Christy and Dianne could remember the exact date their friendship ended... forever!"
Cromulent_pseudonym remarked: "Imagine writing this note and then seeing it show up on the internet decades later."
WhatTheFox_Says noted: "The date adjustment has to be my favorite part. 'I might be angry but by GOD I'll make sure this correctly dated!'"
While Pamsquatch added: "I'm gonna need to see these shorts."
Amid claims that the letter was a fake, u/BrotherOfTheLeafMTL wrote: "It's legit. We found TONS of old papers from the 70s and 80s.
"The entire house hadn't been updated at all, and only one owner of the house who passed away. You'd be surprised what we find sometimes."
And after people quizzed u/BrotherOfTheLeafMTL on whether he was trying to track down the recipient, u/BrotherOfTheLeafMTL confirmed: "I am. I even have the last name of the people who lived there. Definitely going to try and find her."
According to Zillow, the average house price in Wilmington is $300,841, which has gone up by 12.2 per cent over the last year. Last May, that figure was $268,000, and in 2020 it was $234,000.
The chart below, provided by Statista, shows where it's hardest to own a home.