Man Finds Fake COVID Vaccine Card in Passport Holder Ordered Off Amazon
A Connecticut state legislator thanked one of his constituents on Twitter Thursday for raising concerns about a fake COVID-19 vaccination card that the constituent said was found inside an item ordered through Amazon.
The product listing that included the fake vaccination card has been removed from Amazon's website, a company spokesperson told Newsweek.
Democrat Matt Blumenthal, a state representative for Connecticut's 147th District, shared a link to The Connecticut Post's article about the fake vaccination card discovery in his message of thanks, which also commended Connecticut Attorney General William Tong's response to the constituent's report.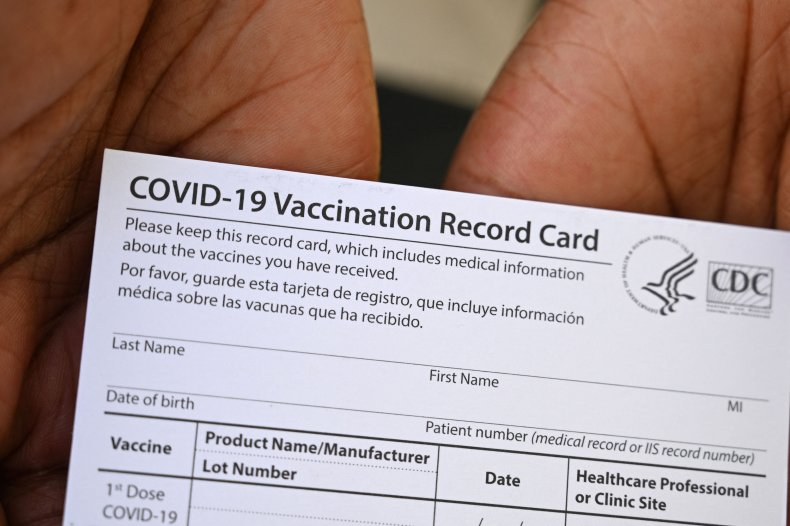 "Fake COVID-19 vaccine cards are a fraud on the public health — and a crime. Thanks to this constituent for reporting this listing to me, and to @AGWilliamTong's office for this swift action," Blumenthal tweeted.
He also encouraged residents who make other discoveries like this one to come forward: "If you see similar listings, please report them!"
Blumenthal did not name the constituent, nor were they identified in the Post's article, which was first to cover the constituent's findings. The constituent came upon the fake vaccination card after ordering a passport holder through Amazon, which arrived with the fake card inside, according to the Post.
The constituent described the card as being larger than the official vaccination card issued by the U.S. Centers for Disease and Prevention (CDC), Tong's office told the paper. The constituent first reported the fake card to Blumenthal's office, and Blumenthal then alerted Tong about the product listing on Amazon. Other consumers mentioned the passport holder came with a fake vaccination card in reviews left for the product online, Blumenthal told the paper.
After learning about the fake vaccination card, Tong's office contacted Amazon to bring the listing to the company's attention, according to the Post.
When reached Thursday for comment, an Amazon spokesperson said the products were in violation of Amazon's policy and were thus removed.
"We do not allow the products in question in our store," the spokesperson said in a statement shared with Newsweek. "We have proactive measures in place to prevent prohibited products from being listed and we continuously monitor our store and take swift action on bad actors that attempt to evade our systems."
Newsweek reached out to Tong's office for comment and will update this article with any response.
Fake COVID-19 vaccination cards have become a common trend in illegal sales since the CDC began issuing real cards to vaccine recipients last December. The cards are intended to document when an individual has received their initial vaccine doses and booster shots, and are often used to grant entry to restaurants, gyms, concert venues and more as the virus remains a concern in the U.S. and around the globe.