Man Finds Out Wife Died From Coronavirus After Waking Up From 99-Day COVID-19 Coma
A 75-year-old Oklahoma man was bound to a hospital bed at Mercy Hospital for nearly 100 days after testing positive for COVID-19, but when Russell Owens woke up from the 99-day coma, he was told his wife of 52 years had died from the same virus.
Russell and his wife 73-year-old wife, Judy, were admitted to the hospital in Oklahoma City one day apart in March. Russell was hooked up to a ventilator, but he has no memory of that first month in the hospital.
"I can tell you what we were doing the day before I got sick, but after that it's just blank," Russell told NBC-affiliate KFOR-TV.
Judy was in a coma for nearly two weeks before her kidneys failed and her family made the decision to take her off life support. Their two daughters had been at her side, but Russell, who was in a coma down the hall, didn't get a chance to say goodbye when she died on April 5.
"It's going to be hard for a long time," Russell said. "They say time heals all, but I just don't know."
Even though Russell had been separated from Judy, he had called out for her during his battle with COVID-19.
"People there told me I had bad nights calling for my wife," Russell said.
Despite losing 70 pounds, Russell recovered. Slowly, he was moved from the intensive care unit into the metro rehab center and is now back home, where he uses a walker. But the home he returned to was not the same one he had left in March.
"Certain things remind me of her—like things that were her things," Russell said. "Being an old guy, I have lived through a lot of things, but I never would've thought of this happening."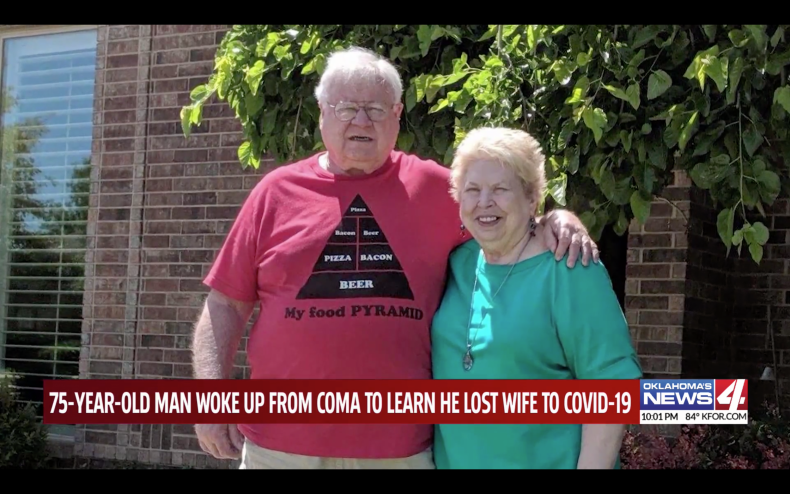 Oklahoma has seen a massive spike in COVID-19 cases since the beginning of June. On Thursday, July 9, the state reported 603 new daily cases, bringing the total count to 18,496 confirmed cases. There have been 410 deaths in Oklahoma, according to the state's Department of Health.
Oklahoma City has the second-highest case total in the state, behind Tulsa. Under the state's new COVID-19 alert system, Oklahoma County is currently flagged as a "low-risk/yellow phase." Counties in marked as "yellow" are those with "1.43 < 14.39 daily new cases per 100,000 population."
As of Friday morning, there are 28 COVID-19 positive patients at Mercy Hospital Oklahoma City and 14 of those are in ICU, according to Mercy Hospital's Executive Director of Media Relations Nancy Corbett.
Corbett told Newsweek that another husband and wife pair had been inpatients at the same hospital, but both recovered and were discharged home.
It's unclear if battling coronavirus will have any permanent damage to Russell's health, but he will attend physical therapy in the attempt to gain enough muscle mass so he can walk on his own again.