Man Finds Secret Passage Hidden Behind Bookshelf in His 500-Year-Old Home's Library
Hidden passageways, a locked chest and centuries-old books are just some of the surprises a man has found in his 500-year-old Sussex family home.
Freddy Goodall discovered the passageways hidden behind a bookshelf in the home. He believes they once extended to nearby buildings and a church.
Goodall, who posted videos of the underground labyrinth on TikTok and Instagram, said he had been "looking through photos of the house from the 1800s when he noticed a doorway.
"I searched for the door and found a small hole that looked into the hidden room."
The hidden room connected to passageways and to unused rooms full of cobwebs.
Speculating about their original use, he said he believed they had been used "many years ago for servants to pass from their quarters into the main house."
It was not uncommon for houses to boast secret passages for the servants and other staff to use, as they were typically not allowed to use "official" corridors and staircases.
"The passageways run all the way from one end of the house to the other," he said. "When the passageways were in use, I believe there were some running miles underground to nearby buildings and a church.
"I found a safe containing old historical documentation relating to the house," he said. "I have found other artifacts including old books from when the house was a school. I will look for new things in the future."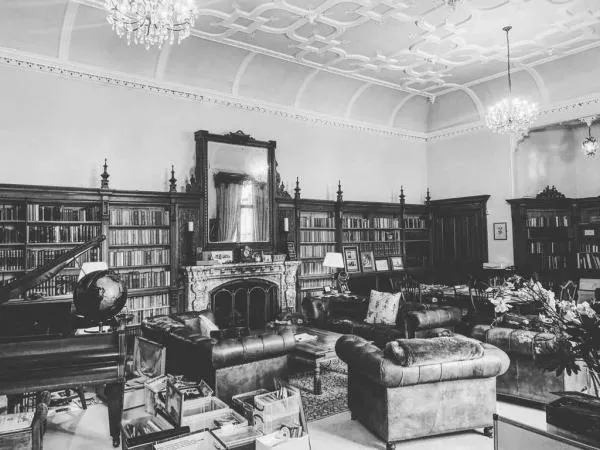 Goodall suspects that mischievous pupils may have snuck down into the passageways. "I would imagine [the passageways] were used for maintenance purposes, although I found many names inscribed into the wall that looked like school pupils that snuck down there," he said.
In the safe, Goodall said, he found documents from 1848. "I mainly found books containing information on the history of the house. I also found a letter written from the owner of Castle Ashby while visiting the house."
Though the house is about 500 years old, Goodall said his family bought it and renovated it around 30 years ago.
Goodall, who works as a property developer, said he grew up around people in the real estate industry. "This gave me an interest and enthusiasm for development."
Sussex is a historic county of southeastern England. It covers a coastal area along the English Channel south of London. East Sussex is known for its picturesque landscapes and West Sussex includes varying countryside.
The area was first recorded in the year 722 as Suth Seaxe, from the Old English meaning "territory of the South Saxons.
This story was provided to Newsweek by Zenger News.
{{#isDisplay}} {{/isDisplay}}