Man Wakes Up to Discover Large Tawny Owl Just Hanging Out in His Living Room
Unless you're a student at Hogwarts, you probably don't expect to see an owl in your living room when you're getting ready to enjoy your morning cup of coffee. For U.K. professor Phillip Brown, though, this was a reality, when he found a tawny owl just chilling in his living room on Tuesday morning.
The University of Huddersfield housing and communities professor shared a photo on Twitter on Tuesday of the owl perched on a lamp in his lounge. He joked that it was "just a regular morning" to find the owl hanging out in the morning. While it's not entirely clear how it got into his home, Brown wrote that he thinks that it fell down his chimney.
In an email to Newsweek, Brown described the scene he found in the morning, initially thinking noises he heard from the owl were just his son going to play video games. "I opened the door and the owl was sat on the window sill and it did the 180 degree head turn thing an[d] looked right at me. We stared at one another for a bit and I quietly closed the door and went and woke my wife up. We both went back downstairs to check. We were a little more than stunned. It must have come down the chimney at some point in the night – we'd been away the night before so we don't know if it had been stuck there for some time," he wrote.
Getting the owl out safely was the prime concern for Brown and his family, and they did everything they could to get the bird out without direct help from local animal organizations. "We were just really worried about it. It was obviously distressed and we wanted to make sure it escaped unharmed. Unfortunately the local wildlife rescue places are all struggling with capacity to offer direct help due to the volume of need they have, covid working restrictions and lack of funding. We were hopeful we could encourage it to leave so it had [a] chance to look for food and water," he wrote.
Brown posted that the owl's residence in his living room lasted about six hours after it was found. He said that it eventually flew out, after spending most of the day perching in different places in his home.
In another tweet, Brown wrote that the owl got worked up whenever someone was in the room with it, flying into walls, windows and shelves. He wrote that at the advice of the Royal Society for the Protection of Birds' (RSPB) advice, he quietly opened the window after the owl had calmed down. Brown said that once he opened a higher window, it flew right out.
According to RSPB, tawny owls are often seen across England, Scotland and Wales. While they're often heard at night, it is uncommon to see them at all, making Brown's sighting a relative rarity, although owls entering through chimneys is a more common occurrence than one would think.
Many people responded to Brown's tweet with their own photos of wildlife invading their homes. One woman wrote that her cats have let in magpies, moorhens and rats, suggesting that the professor's cats may have been the culprits. Brown responded that his cats had died, but he thought that perhaps the cats had been "suppressing wildlife invasions" during their lives.
Some of the other animals that people shared pictures of on Twitter included cygnets, pigeons perched on the side of the toilet and another owl that had also fallen into a chimney.
Owls entering homes through chimneys or creating nests in chimneys do seem like a somewhat common problem. A quick Google search returns a number of results and similar stories to Brown, wherein owls have gotten caught or entered homes through the fireplace. A post from Operation Orphan Wildlife Rehabilitation recommends a chimney cap, not only to prevent animals from entering one's home, but also to help keep animals safe.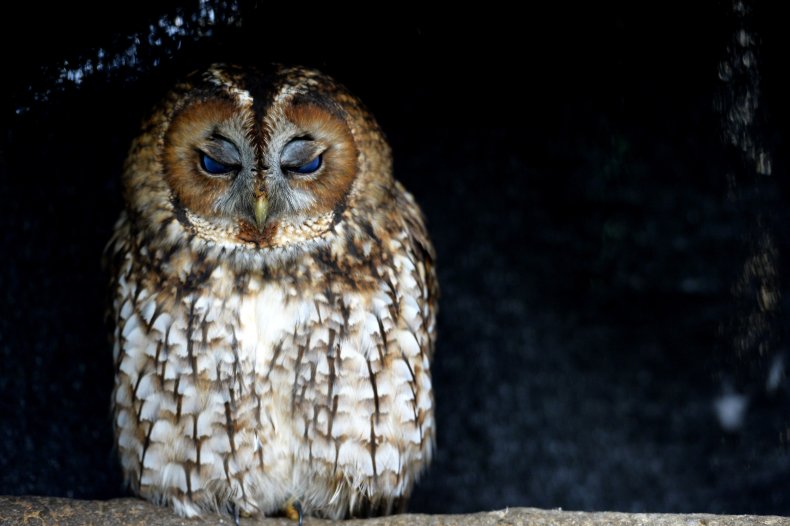 Update 9/2/20 4:15 p.m. EST: This story has been updated to include comment from Brown, which was received after the story was originally published.