Man Fined $3,000 After Drunkenly Tossing Stray Cats Into Sea
A man who allegedly threw two stray cats into the sea while drunk now faces both a hefty fine and international outrage for his act of animal cruelty.
According to a Facebook post from Malta's Law Enforcement System Agency, or LESA for short, a 21-year-old inebriated man was arrested on Wednesday after reports came in of potential animal endangerment at the Spinola Bay.
"On Wednesday [June 9] a 21-year-old French youth at around 7:30 [p.m.] was seen by one of our Community Officers throwing two cats into the sea in the limits of St. Julian's," LESA reported, noting additional units were called to the scene to formally arrest and process the individual.
Fortunately, the two felines were OK after their late night swim, and LESA reminded readers "that any kind of animal cruelty should never and will never be permissible."
"Luckily the cats were saved from the sea by our community officer and are now safe and sound," LESA wrote on Facebook. "We would like to thank our Community Officer for his stellar work and also the police officers who assisted."
Ralph Grima, a communications officer with LESA, confirmed the incident with Newsweek, noting part of the agency's work is focused on serving the community and the environment.
"The incident that occurred last week is one occurrence where one of our Community Officers was patrolling the area and noticed this individual committing these inhumane acts," Grima said. "Luckily he acted swiftly and courageously and apart from saving the cat from drowning he also managed to keep the offender on site until the Police arrived on the scene since our officers do not have the authority to arrest him."
A follow-up report from Television Malta (TVM) was able to identify the man as Brieux Reungoat, who admitted in court he caused the strays "unnecessary suffering" by tossing them into the bay.
Magistrate Donatella Frendo Dimech oversaw the case, and described his behavior as "cowardly," according to the outlet.
"The way one treats animals is a mirror and a tangible measures of one's humanity, morality and civility," she reportedly said when delivering his punishment—2,500 euros, or approximately $3,000.
Local outlet Lovin' Malta also was able to identify one of the strays as Bobby the cat by residents in the neighborhood. They claimed Reungoat and a group of his friends had been causing trouble for days prior to the cat incident with several drunken disturbances.
The outlet reported Reungoat and his friends had allegedly trespassed on a large boat, stole a smaller boat and attempted to climb other sea vessels late at night. The next night, an anonymous neighbor told Lovin' Malta the "very friendly" Bobby approached the group behind the Cavalieri Hotel and was one of the cats tossed into the water.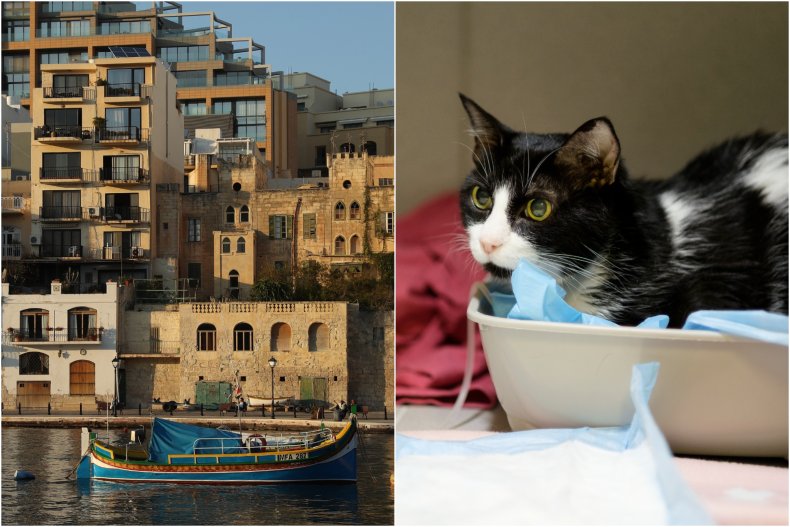 "He needed to swim all around Cavalieri and back to the beach in order not to drown… thank God he is a smart cat," one resident told the outlet.
Concerned resident and activist Pia Micallef also posted about the situation on Facebook. "The picturesque Spinola Bay; A place where you can find birds, lizards, cats, dogs and people," she wrote.
"But out of all these animals, only one is cruel enough to throw a cat into the sea in the middle of the night—just for fun."
Micallef added that though she doesn't "particularly believe in an afterlife," she planned "to come back and haunt the person who did this." She also confirmed in the comments section "residents of the area [had] called the police around 6-8 times about these young [people's] actions" for days prior to the cat incident.
"What the actual f***. How could someone do that. I definitely couldn't be held accountable for my actions if I met that guy. Poor cat," one outraged viewer shared in the comments.
Micallef shared with Newsweek it was easy for residents to identify the victimized cat as Bobby, because of his good nature and his frequent interactions with neighbors.
"[Bobby] lives in the area, so everyone knows him. The residents of the area generally know all the strays by name, as they all live at 'cat village,'" she explained. "It's a small area in St. Julian's where a local resident set up a sort of shelter for stray cats. It's since been torn down and the resident was given a room by the property owners where she can feed the cats.
"Bobby is a very friendly cat, so out of all the strays he's one that really stands out," she added. "After the LESA officer dried Bobby off after the ordeal, he ran up to my mom's house. He was still pretty wet at the time. Later on when the police arrived near the hotel, my mom saw the commotion and asked the resident who feeds the cats what was going on and I guess that's when they put two and two together and figured out it was Bobby."
On Tuesday, Micallef returned to Facebook to inform concerned followers Reungoat had been punished and fined.
"Great news: The drunk French guy who tried to drown our Bobby by throwing him into the deep end of the sea in Spinola Bay has been fined 2,500 Euro for animal cruelty," she wrote.
"Thankfully, the consequences for such a crime were decided upon by an educated female magistrate, with multiple years of experience in sentencing," she added.
"This is great news! He should probably be put on some sort of watch list too because people who are abusive to animals are normally the same to other humans and tend to be a sociopath," one viewer chimed in. Another felt "he got off quite lightly" for his actions.
Micallef told Newsweek she felt "justice has been served, thanks to the fact that there are indeed legal consequences to such animal cruelty."
"I think that when judges or magistrates hand down judgements, there are always a number of issues to take into consideration—such as age, mental stability, legislation surrounding the crime [etc.]," she said.
She did note, however, she was shocked by the comments that felt Reungoat should not have been punished for his actions.
"I believe this has more to do with the fact that the ordeal was made public by women," she explained to Newsweek. "Maltese animal welfare is pre-dominantly lead by women, such as the current Commissioner for Welfare, multiple animal rights activists, or the principle organizers of animal shelters or cat colonies.
"Certain sectors of Maltese society get very upset when Maltese women are vocal about topics they care about, regardless whatever that topic is. So often, you will see a strong section of Maltese society negate concerns about animal rights due to the fact that it tends to be a female-led issue," she said. "For me that was the disappointing part."
Lovin' Malta also reported Bobby has recovered well, noting LESA officials have continued to check in on him and feed him.
Micallef confirmed Bobby is now "doing [okay], getting lots of cuddles, kisses and extra food and love from the residents."
Grima also told Newsweek this instance of animal violence was an isolated incident he and the rest of LESA do not tolerate.
"Luckily events like this incident do not happen often yet animal abuse is still an occurrence in our country," Grima said. "We [don't] condone any inhumane activities on any creature and always tell our officers to keep an eye on any that might be taking place."
In Las Vegas, a similar disturbing animal cruelty incident was reported after video surfaced in which a pest control specialist appeared to kick a pet cat off of a client's porch, sparking mass outrage online. Another viral video showing a man seemingly "pet" a stingray on a boat has also divided viewers online, many of whom believe it was an act of animal cruelty.
Updated on June 18 at 12:15 p.m. to include statements from LESA and Micallef.