Man Fined For Driving 110 Miles For Fishing Trip During Coronavirus Lockdown
A man has been fined for travelling across Britain to go on a fishing trip, despite the current lockdown rules ordering people to stay at home. He was given a fine by police for travelling from Wolverhampton to a lake in Cambridgeshire, a journey of around 110 miles.
A East Cambridge Police spokesman said: "As per the Government guidance and also DEFRA, people should not be leaving their houses in order to go fishing recreationally."
Prime Minister Boris Johnson has ordered people to only leave their homes for "very limited purposes" and has banned public gatherings of more than two people to prevent the spread of COVID-19. People are only allowed outside to buy essential goods such as food, for medical needs and to exercise once a day.
The general public has also been asked not to socialize with people outside their homes and to avoid visiting other people's houses. Every citizen must comply with these new measures and the police have been given powers to enforce them through fines and dispersing gatherings.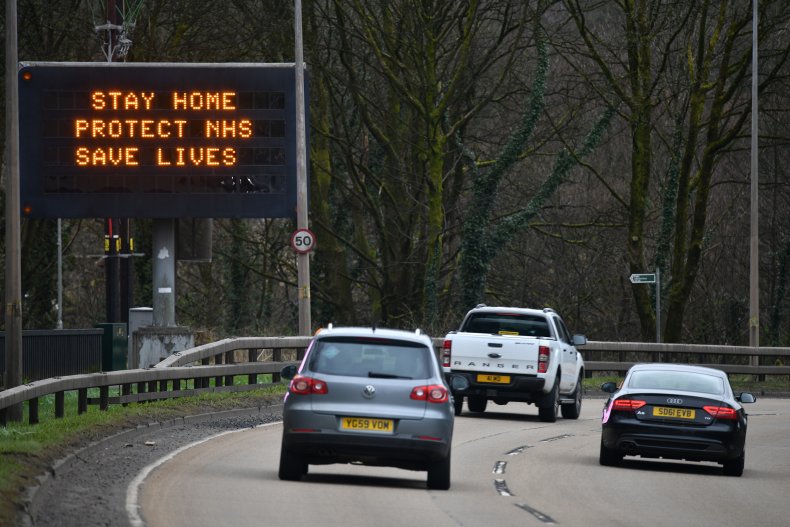 Some people are continuing to break the rules however, risking further spread of COVID-19, the disease caused by the novel coronavirus.
Last month, a driver made a 220-mile round trip across the U.K. to collect some windows he bought on eBay, but was stopped by police during the journey from Coventry to Salford. The police discovered his wife was in the trunk as there wasn't enough room for her to sit in the car.
North West Motorway Police tweeted details of the incident: "A driver has traveled from Coventry to Salford to collect a £15 [$18.33] eBay purchase of windows."
Prime Minister Boris Johnson has said now is not the time to ease up the lockdown and that he would not "throw away all the effort and the sacrifice of the British people" by easing lockdown restrictions too quickly.
He returned to Downing Street today to lead the government's response to the coronavirus outbreak amid growing calls from members of his own party as well as the business community to set out a plan to ease the lockdown.
Delivering a speech outside Number 10, Johnson thanked the country for "stepping up" and said he was sorry for being "away from my desk."
He said: "Every day I know that this virus brings new sadness. It is still true that this is the biggest single challenge this country has faced since the war. It is also true we are making progress.
Johnson is expected to chair the regular morning meeting of the government's COVID-19 "war cabinet" before meeting with senior ministers and officials.