Man Fined Over $1,000 for Setting Lawn on Fire Instead of Mowing it Amid Burn Ban
Not wanting to mow his lawn, a Canadian man decided to set his yard on fire. Due to the current burn bans in place throughout British Columbia, CTV News reports that he was fined more than $1,000 under the provincial Wildfire Act.
The Royal Canadian Mounted Police (RCMP) answered a call about the fire Tuesday. The blaze was first spotted by a group of passengers passing by on a B.C. Ferries vessel, who could see the flames from the water.
It was quickly determined that the 10-foot-long fire—which was put out by firefighters—was human-made. Police told the outlet that the homeowner admitted that he didn't want to cut his grass. So, he burned it.
Because British Columbia is currently facing an unprecedented heatwave, the local government has instituted several burn bans throughout the province. British Columbia's Wildfire Act essentially makes burn bans enforceable. As such, the homeowner was fined $1,150 under this act.
Presently, British Columbia is in a state of emergency. In an official press release, the local government announced that as of July 20, there were 299 wildfires burning in the province, with 40 evacuation orders affecting around 5,742 people. Additionally, there were also 69 evacuation alerts affecting another 32,076 people.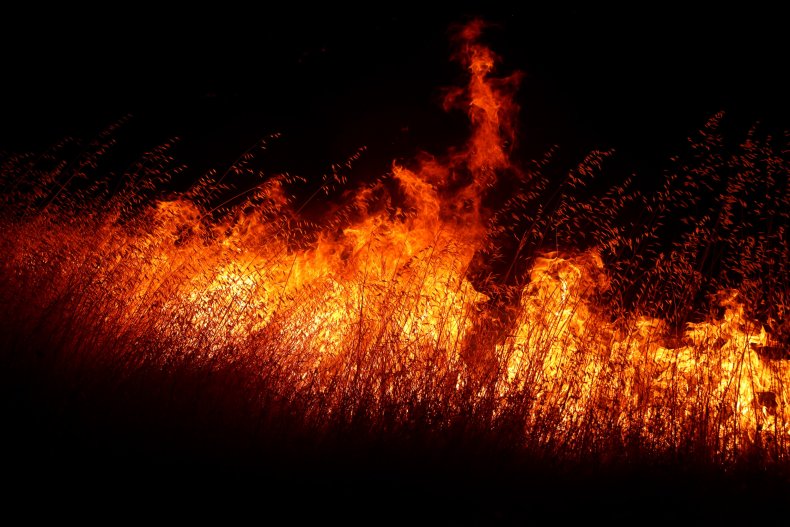 The government also shared that, at the time, over 3,180 firefighters and resource staff were "actively engaged" in fighting fires throughout the province.
"Public safety is always our first priority, and as wildfire activity is expected to increase, this is a progressive step in our wildfire response to make sure British Columbia has access to extraordinary powers under the Emergency Program Act," said Mike Farnworth, Minister of Public Safety and Solicitor General.
According to the local government's official website, British Columbia has seen a total of 1,259 fires since April 1. The statistics were last updated on July 28.
In response to the overwhelming number of fires, all open fires are prohibited. Some restrictions were recently lifted in certain counties to allow campfires. Campfires, says the government, are defined as any fire approximately 1.5-feet-tall by 1.5-feet-wide or smaller.
Some commenters online expressed feeling worried about or frustrated with the current restrictions, or in some cases, lack thereof. However, officials reminded commenters on social media that the bans are for the safety of all residents, and all restrictions are adjusted according to a variety of factors.
"British Columbia is a large and geographically diverse province. For that reason, each of B.C.'s six regional fire centres decide when and where to implement open fire prohibitions within its jurisdiction," said the BC Wildlife Service on Facebook. "In anticipation of the heat event at the end of June, the BC Wildfire Service took the precautionary step of implementing a coordinated, province-wide campfire prohibition.
"As conditions evolve, particularly in the northern half of the province where there have been cooler temperatures and precipitation, we continue to monitor conditions," they continued.
"Multiple factors are taken into consideration when assessing wildfire hazards and deciding whether to implement, or rescind, an open fire prohibition, including: current and forecasted weather conditions; the availability of firefighting resources; and the Buildup Index (BUI)."