Man Fired After Vandalizing Woman's Workspace With 'Trump 2024' Graffiti
In a video uploaded to TikTok by smilemoonchild, a Canadian woman from Hamilton in Ontario, viewers were given a close look at the damage done by an unnamed male employee. The video can be viewed here.
"Tell me you have an awful coworker without telling me you have an awful coworker," she says at the beginning of the video. "I'll go first."
The camera pans around her workplace housed within an unspecified warehouse setting. It has been defaced with several messages, written in thick red paint, which say either "Trump 2024" or simply "Trump," with one scrawled alongside a heart emoji.
The messages appear on tables, cardboard boxes and bins in and around her desk. A total of five different pieces of graffiti are presented in the video.
According to smilemoonchild, her section was vandalized during her day off.
"I already reported it to HR and they said they're gonna deal with it and they're gonna go to the director of human resources," she says on the clip.
"This was definitely targeted towards me because it's only in my section."
In the video, which has been viewed 160,000 times, smilemoonchild says she strongly suspects one male colleague, noting that he is rather conveniently "on vacation" having worked the day when the Trump messages were painted.
"Not only was this intentionally targeted towards me but it's also f***ing vandalism in the workplace," she adds. "Like, hello, are you stupid?"
In a follow-up video posted just over a week later, smilemoonchild said she initially threatened to quit when the man returned from his vacation.
"The second he walked through that door I went to my supervisor and told him, 'Listen, if this guy is staying and nothing is happening to him I'm done. I'm leaving and I'm going home, that's it,'" she said on the video.
Management explained to her that the situation was "under control" despite failing to keep her informed on what kind of disciplinary action would take place.
Ultimately, despite being unhappy at how things played out, smilemoonchild confirmed that at 3 p.m. the man was handed his termination letter by the company and escorted from the building by security.
Speaking to Newsweek, smilemoonchild, who asked not to be named, said the incident was born out of a "petty" argument that "started outside of work" and had nothing to do with race or politics.
Despite this, she says they remained "cordial" in the workplace, even though he insisted on wearing one of Trump's signature "Make America Great Again" baseball caps "for weeks" during the U.S. elections.
She says that they went about two months with "no issues" and "then all of a sudden he decided to vandalize my section."
"The reason I knew it was him was because another co-worker was asked to work with him before he left that Saturday and he showed him all of the stuff he did thinking it would be funny. That co-worker then told me the following day."
She says she filmed the video to make sure he was held "accountable for his actions."
Smilemoonchild confirmed that the co-worker was let go as a direct result of the vandalism incident.
"My workplace took care of it all and respected my wishes to keep my complaint anonymous," she said. "They had written him up for other things already but his actions were enough to get him fired."
Newsweek contacted the employer for comment.
Trump has yet to announce whether he is planning to run for re-election in 2024, despite Representative Jim Jordan previously stating that Trump is "about ready" to announce another run for president.
Jason Miller, a former senior adviser to Trump, appears to be in agreement though, having suggested that it's "pretty clear" that Trump will run again in 2024 and even putting the chances somewhere between "99 and 100 percent."
A recent poll, meanwhile, placed Trump as the favorite to win the 2024 U.S. election, just ahead of Democratic incumbent Joe Biden.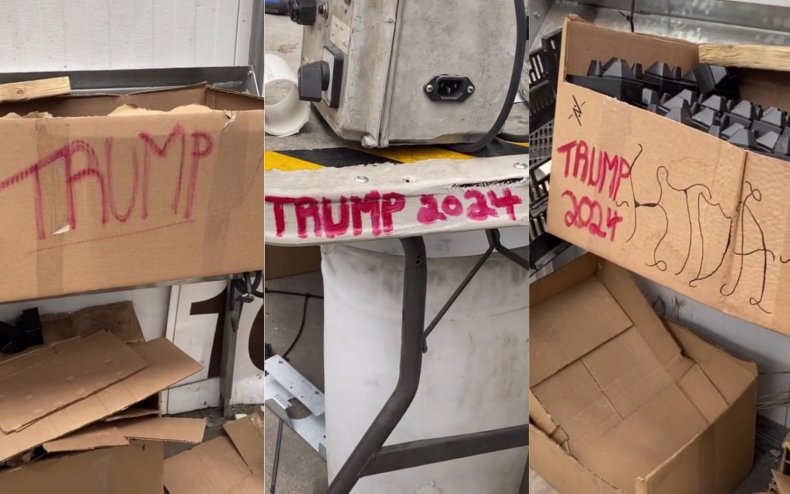 Update 9/16/21, 3:10 a.m. ET: This article was updated to remove the employee's company name.