Man Fires Gun Into Air, Bullet Hits Woman Inside Assisted Living Facility 200 Yards Away
A South Florida carnival worker fired a gun into the air during an argument with a co-worker and the stray bullet went through the window of a nearby assisted living facility, striking a 91-year-old woman, the Associated Press reported.
Brandon Craig, 40, is charged with attempted murder, aggravated battery with a deadly weapon, battery and carrying a concealed weapon, police said.
Authorities said the bullet traveled 200 yards, the length of two football fields, on Thursday morning from the Broward County Fairgrounds through the first-floor window and into a room at the Waterside Landing assisted living facility in Margate.
Police said the woman, whose identity has not been released, was shot in the foot and transported to a local hospital, Local 10 News reported.
"The injury was not life-threatening," Lieutenant Alain Banatte, a spokesperson for the Margate Police Department, told the South Florida Sun-Sentinel. She is expected to recover.
According to police, the incident occurred around 4:30 a.m. when two carnival employees got into an altercation over a woman. One of the employees pulled out a firearm and fired two shots. One of the bullets landed in the assisted living facility, WTVJ reported.
"We've talked to the operator, we've talked to the police chief," Margate Mayor Antonio Arserio said, according to Local 10 News. "There's no known threat to the city. It is serious but was an isolated incident."
Fair officials said Craig is a "self-employed game operator from West Palm Beach" and will no longer work at the fair or any of its parent company locations, Local 10 News reported.
For more reporting from the Associated Press, see below.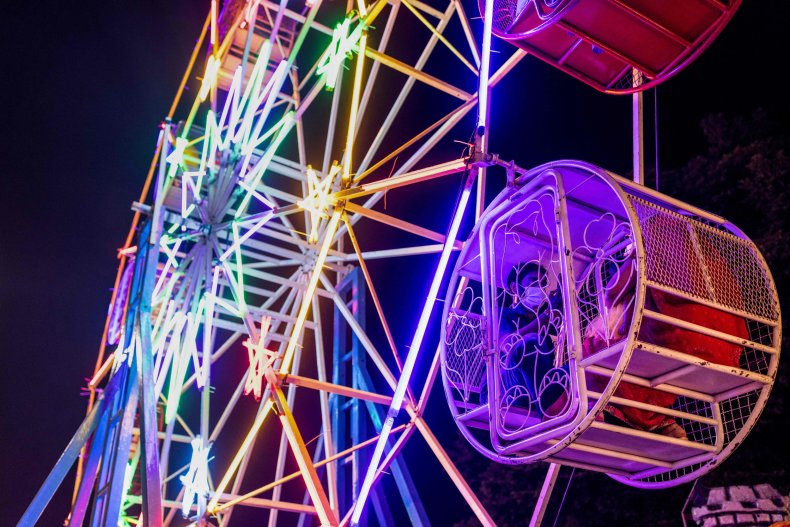 The fair opened Thursday and runs through December 5.
"To ensure the safety of fairgoers and as initially planned, the Margate Police Department will be continuously patrolling the fairgrounds throughout the upcoming weeks to deter any further incidents and avoid any potential risks to public safety," Arserio told the Sun Sentinel.
Craig remained in the Broward County Jail on Friday morning. Jail records don't list a lawyer who could speak on his behalf.
Margate is near Fort Lauderdale.