Man Fires Gun Inside Taco Bell After Argument With Employee, Police Hunt Suspect
Police are hunting for a man who fired a gun inside a branch of Taco Bell after getting into an argument with an employee.
The incident happened on Thursday evening at around 6.35 p.m. in Suffolk, Virginia.
According to 3 WTKR, police received a call to the restaurant in the 1400 block of North Main Street saying a shot had been fired.
The report said that a man entered the restaurant and got into a verbal argument with an employee about an issue unrelated to the restaurant.
It is claimed the man then pulled out a gun and shot one round inside the restaurant before fleeing the scene.
The news channel reports that Suffolk Police said they have identified a suspect—23-year-old Jalil Larshawn Evans.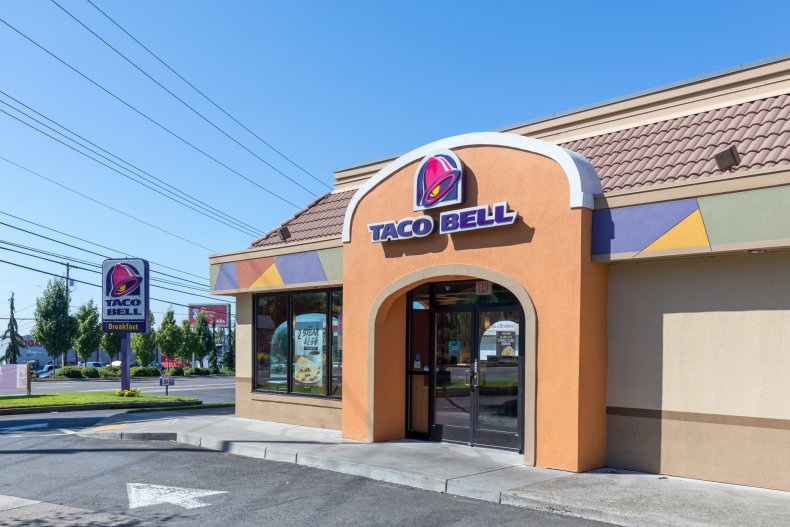 No one was hurt during this incident.
Taco Bell is not the only fast-food restaurant chain to have made recent headlines due to violent incidents by visitors.
On Tuesday, Newsweek reported how a mother was captured on video ranting at McDonald's staff because they forgot to give her children ketchup.
The woman was filmed as she launched a vicious tirade at staff working at a drive-thru in Belgium.
During the clip, posted to Twitter, the woman goes up to the order hatch and starts shouting and pointing her finger, demanding the tomato-based condiment.
Two people who were sitting in a car filmed the angry outburst, which is understood to have happened on Saturday.
During the clip, the mother shouts that she had repeatedly asked staff whether the order was complete before driving off.
However, the mother claimed that as she started driving "all the way back to Sint-Niklaas" with her children, one of them discovered that the sauce was missing.
During the tirade, the woman hurled insults at staff calling one man a "dirty son of a whore" and addressing another staff member as a "dirty whore."
The woman says: "Give me my sauce, I paid for it. My children do not eat fries without sauce."
When a male employee asks for her receipt, she threatens to call the police if he does not provide the ketchup immediately.
The staff member tells her to "please, go ahead and do that," adding that he will call the police as there is camera footage of when she allegedly assaulted his female colleague, to which she replies that she doesn't care.