Man Forces JetBlue Landing After Being Seen Snorting 'White Substance'
A JetBlue flight was diverted to Minnesota after a man allegedly threatened other passengers and was seen "snorting a white substance."
Mark Anthony Scerbo, of Mechanicville, New York, was arrested for drug possession in Minnesota after JetBlue flight 915 from New York City to San Francisco made a stop in Minnesota on Sunday, NBC New York reported.
A video posted on Twitter by Matt Kawashima, a passenger on the flight according to NBC New York, showed a member of the flight's crew explaining what had happened before 42-year-old Scerbo was removed from the plane by Minneapolis-Saint Paul (MSP) Airport Police.
In the video, the crew member said Scerbo had antagonized several passengers and made threatening gestures towards them.
The crew member said he also touched a female passenger. "Flight attendants were able to move that passenger so she felt more comfortable," he said.
Scerbo also had to be repeatedly asked to wear a mask, made multiple trips to the bathroom and was seen "snorting a white substance," the crew member said.
"It was collectively decided that all four flight attendants felt uncomfortable with what was going on. There was a child up there, other passengers felt uncomfortable," he said.
"This was the closest place to go, so we as a team made the decision to come here... so that's what happened," he added, eliciting cheers from passengers.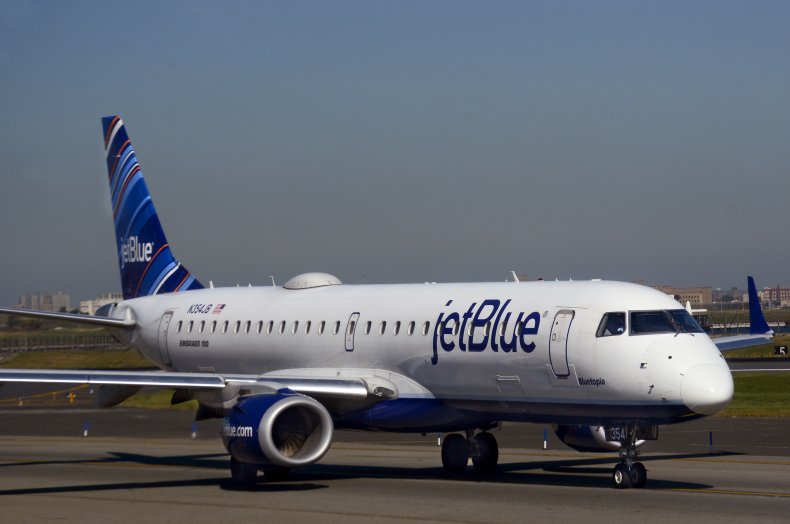 Kawashima wrote alongside the video: "Uhhh my @JetBlue flight JFK-SFO just got diverted to MSP because an anti-masker was snorting coke in the bathroom and sexually harassing another passenger... props for to the crew for dealing with this maniac."
He also shared a screenshot on Twitter showing the flight diverted to Minneapolis shortly before 10 p.m. UTC (6 p.m. ET).
Kawashima told Newsweek that the Scerbo had been sitting in first class.
"The passenger in front of me witnessed the man acting oddly and making some racist comments at the gate," he said.
A JetBlue spokesperson said the flight had to diverted after the passenger "began acting erratically and aggressively toward crewmembers and other customers."
"The flight was met by law enforcement, the customer was removed and the flight continued on to San Francisco," airline spokesperson Derek Dombrowski said in a statement.
"Safety is JetBlue's first priority, and we appreciate our crewmembers' response and our customers' patience during this incident."
Scerbo was arrested for possession of a controlled substance, MSP Airport Police said.
Patrick Hogan, Metropolitan Airports Commission spokesman, said the FBI could bring additional charges against Scerbo over the alleged behavior on the flight.
MSP Airport Police have been contacted for additional comment.
Update 19/5: This article has been updated with additional comment from Matt Kawashima.