Man Forgets He Has a Propane Tank In His Car and Lights Cigarette, Causing Explosion
A man from Halifax, Nova Scotia, Canada is lucky to be alive after causing an explosion in his car Thursday evening.
The man, who was not identified by authorities, had a five-pound propane tank in the backseat of his car. The explosion happened around 7 p.m. local time in a grocery store's parking lot at the Quinpool Centre shopping area, just under a mile from Downtown Halifax.
He told authorities that he had taken a nap in his vehicle, and on waking up, he decided to have a cigarette, forgetting about the propane tank. When he lit the cigarette, the car exploded. The explosion blew out the windows, caused the car's outside paneling to fall off and blew off part of the roof.
"It shook our entire house," Amanda Derroul, a woman who lives near Quinpool Centre, told CTV News. "We have a two-storey house, there's like seven or eight rooms in it, and it shook the whole house. It was a big loud thud. We thought maybe a bomb had gone off somewhere. We were extremely confused and concerned."
Initially, fire fighters believed that the remains of the propane tank had been launched onto the roof of a nearby Wendy's. However, after nothing was found atop the fast food restaurant, the remnants of the tank were found on the floor of the car.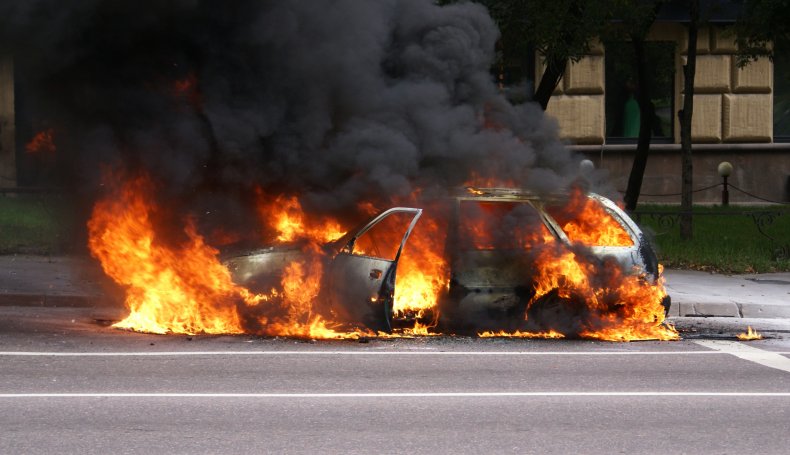 The victim was taken to the hospital with non-life-threatening injuries. Only the car was damaged, and no one else was hurt. Halifax police said there will be no investigation of the incident. District Fire Chief Kevin Reade told Global News that it was a "pretty much cut-and-dry case."
Officials believe that the explosion happened due to a leak from the tank.
"Cars are really tight now to try and keep sound down inside the vehicle, so pressure can build up," Fire Prevention Division Chief Matt Covey told Halifax Today. "It sounds like it was leaking propane into the vehicle ... since propane is heavier than air, it would have been settling into the bottom of the vehicle, so that's what would have ignited and caused the explosion."
Covey also said that propane should not be stored indoors, and that propane tanks should be kept upright, cool and secure.
"And if you've got it in your vehicle, don't smoke," he added.
Though no one was hurt, the incident could have been very dangerous. Covey said that it was lucky no one was near the car when it exploded, as shrapnel from the car could cause serious injury.