Reason Why Man Makes Girlfriend Leave Their Home for 7 Hours a Day Dragged
A man who works from home is currently suffering the wrath of the internet after revealing how he makes his unemployed girlfriend leave their one-bedroom apartment for seven hours every day so he can get on with work.
Writing in a post shared to Reddit under the handle u/throwaway89348593479, the boyfriend lamented the fact that she often fails to stick to these rules and instead comes home for hours at a time.
"She's being selfish and not considering that I need a certain environment to concentrate and get work done," he wrote. But while he appeared adamant that she should give him the space he needs to work, many online felt he was being unfair to his partner.
Living together is often seen as a make-or-break step in any relationship. A 2019 study conducted by the Pew Research Center found that 66 percent of married U.S. adults who lived with their spouse before they tied the knot saw cohabitation as a significant step towards matrimony.
But while living together has been the making of many a relationship, in the case of the man posting to social media, it's in danger of breaking it.
According to the post, his girlfriend lost her job a month ago, meaning she has been spending a lot of time in the one-bedroom apartment that they split the rent evenly. This has posed something of a problem for her partner.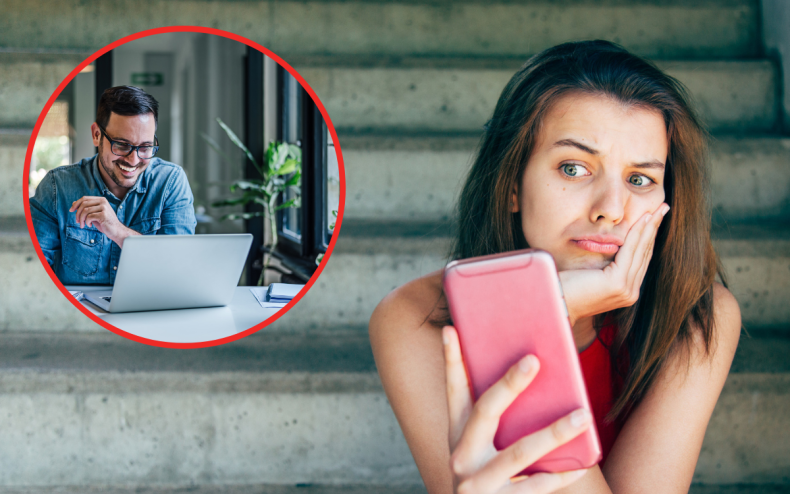 "She understands that I'm busy all day/night, but I don't like when she's sitting in the same room as me," he said. "Even her presence is distracting to me, she will try to start conversations and she's not the cleanest, so I would ask her to go to the bedroom for the day while I worked in the living room at my desktop."
Though this arrangement initially worked, he said she "began to complain" arguing that she is "paying half the rent" and has "every right to be where she wants to be." The couple have endured several "big fights" since then, but eventually struck an agreement whereby she spends all day out of the apartment while he leaves the house at night.
Unfortunately, his girlfriend is now "upset that she's spending all day out of the house" and recently hit out at him for "controlling her." He's refusing to back down though and has started to take umbrage with her attempts to stay in the apartment during the day, believing she should do more to "accommodate" his work schedule.
Commenting on the dilemma, relationship expert Bethany Nicole told Newsweek: "If the pandemic has taught us anything it is that sharing a small living space 24/7 with a partner can be challenging for all of us. It is reasonable to want a certain work environment present to get work done, however forcing a partner to stay in one room all day or out of their own living space is unreasonable."
'Not Entirely Compatible'
Nicole said that while the situation they found themselves in was challenging, the fact they appeared to be struggling so much suggests "they are probably not entirely compatible."
"The way someone's energy plays off of and interacts with our own can be an indicator of long-term success. Sometimes a partner can simply be sitting quietly in a room and yet we can feel their desire for our attention, without them saying a word," she said. "The true problem being presented here is probably less about the living situation and more about how the partners are feeling about each other deep down."
That evaluation largely chimed with what many commenting on social media said, though most appeared critical of the boyfriend's approach.
NanoPsyBorg was scathing of the man's attitude to his girlfriend, writing: "There is only one person who matters in this relationship." Livid-Garbage8255 commented: "This whole relationship just sounds exhausting...What you are doing seems almost abusive and definitely controlling"
Chzrm added: "This is insane to me. I'd never be able to tolerate anyone like that, who was THAT controlling. This girl needs to get out of this relationship ASAP."
Newsweek contacted u/throwaway89348593479 but couldn't verify the details of the case.
If you have a personal dilemma, let us know via life@newsweek.com. We can ask experts for advice on relationships, family, friends, money and work and your story could be featured on Newsweek's "What Should I Do? section.