Man Goes on Anti-Mask, 'Wuhan Virus' Tirade at Store: 'You Can All Die'
An unidentified man launched into an angry and racist tirade while shopping at a Canadian grocery store after he was asked by store employees to mask up.
The incident, which was posted on YouTube on July 7, occurred inside a T&T Supermarket in Mississauga, Ontario, part of a chain that specializes in selling Asian foods.
The man, who is white, is heard refusing to cover his face when asked by a female employee while removing items from his basket and throwing them on the floor.
"I am never coming back here again," he says as he begins to storm away, amid apologies from the store employee. "I am going to have the media here.…You can all wear your masks, and you can all die, and you can all get sick because when you wear the mask you get sick. It's science."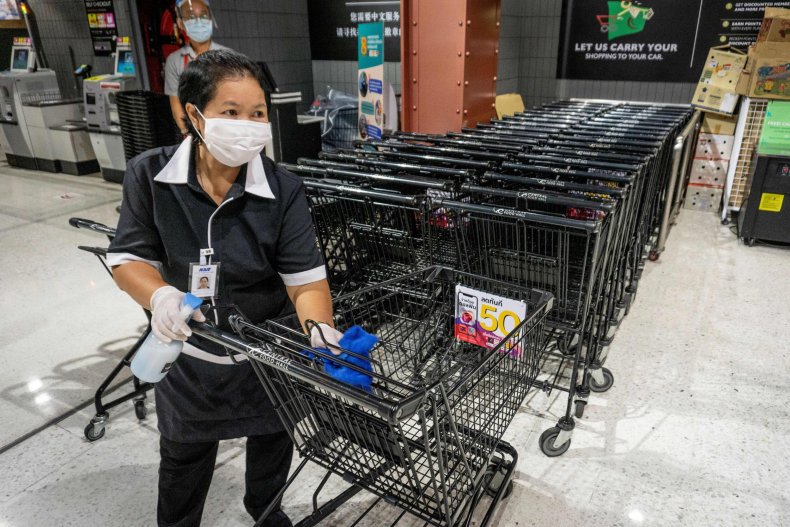 The recording shows employees and the man's companion, surrounding him and trying to calm him down.
But the man appears to grow angrier as he demands that employees who pressed in close to him step back two meters.
"This is a lie. This is a communist-socialist lie," he said. "Where do we get our Wuhan communist virus? From China; from you guys."
The customer, who repeatedly swears that he has asthma, confronts the store employee standing in front of him and demands to know where he is from.
"I'm Canadian," the unidentified store employee says.
The woman next to the angry customer, who also isn't wearing a mask, embraces him while appealing to store employees that wearing the mask makes the man ill as he continues to argue with store employees.
Other store employees responding to the tantrum watch as the angry customer is eventually chest-to-chest with the employee, while the woman who appears to be with him tries unsuccessfully to separate them.
"Get out of my face," the man yells as employees slowly guide him to the front of the store. "Go back to China where you came from, and take your coronavirus back to Wuhan."
The man and woman leave the store minutes later, followed by store employees.
In a YouTube comment, Firenze Yeung, who recorded and posted the video on YouTube, lamented the reaction of the worker who repeatedly told the angry customer that he was Canadian during the nearly four-minute tirade.
"My heart was broken and tears shed," Yeung said. "Where is our multiculturalism? Where are our national values? Even PM Trudeau called grocery store employees 'heroes'! Why are heroes treated like this? I don't understand…"
In a statement sent to Newsweek on Wednesday, T&T Supermarkets CEO Tina Lee called the customer's behavior unacceptable, and she praised how management and staff members handled the situation.
"These types of incidents are rare, and we believe most Canadians do not share the same view," Lee said. "Customers have been supportive of the measures we've employed to keep everyone safe, happy, and fed throughout the pandemic. We thank them for their continued cooperation and support throughout this incident."
Newsweek contacted the Peel Regional Police and Yeung for comment, but neither responded in time for publication.
Update: This story has been updated to include a statement from T&T Supermarket.