Man Found Guilty of Killing Pregnant Ex-Wife By Shooting Her in the Stomach with Crossbow
A man has been found guilty of killing his ex-wife—who was eight months pregnant—by shooting her in the stomach with a crossbow.
Fifty-one-year-old Ramanodge Unmathallegadoo entered a house in London, England on November 12, 2018 where Sana Muhammad, 35, was living with her new husband Imtiaz and five children, according to the Metropolitan Police.
Unmathallegadoo initially hid in a shed at the end of the backyard armed with two loaded crossbows, a knife, duct tape, cable ties and a hammer. At around 7:30 a.m. Imtiaz Muhammad discovered Unmathallegadoo and chased him into the house, while urging his wife to run.
She tried to flee up the stairs of the house but Unmathallegadoo fired an 18-inch-long bolt at her which pierced her abdomen, causing "catastrophic" internal injuries. The bolt missed the baby boy.
Sana Muhammad was rushed to hospital where doctors delivered the baby via Caesarean section. Initially, the child was not breathing but medical staff managed to revive him.
However, the mother—who had suffered internal injuries to her stomach, liver and heart—passed away after a heart attack. According to a post-mortem, the cause of death was determined to be complications arising from internal bleeding.
Unmathallegadoo's son—who was living at the house with his mother—disarmed his father and the 51-year-old was later arrested by police at the scene.
Police said he had been planning the attack for several months and had even conducted surveillance on the house. In fact, officers found a chart inside a rucksack which Unmathallegadoo had left in the backyard shed showing the movements of the house's occupants.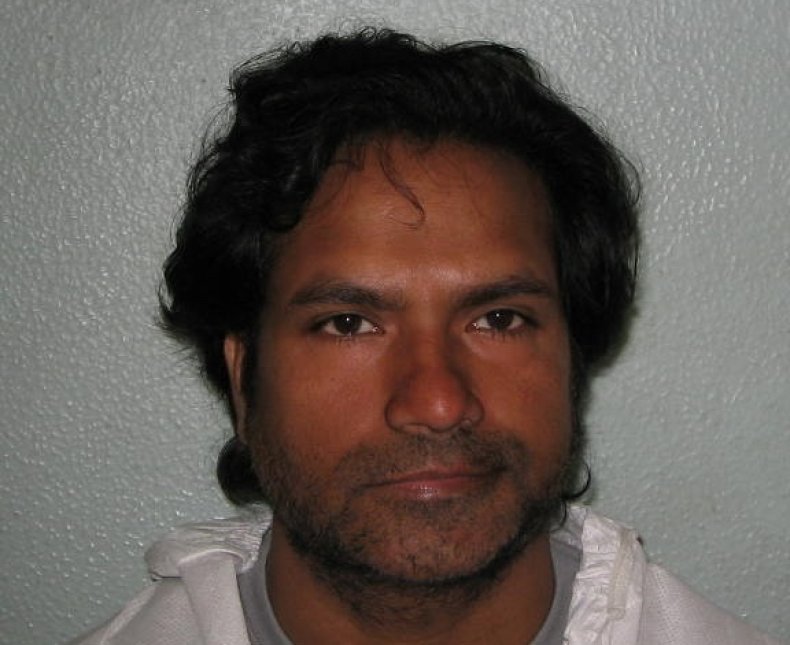 The killer said during the trial that he had not intended to kill his ex-wife with the crossbow and was actually aiming at the bannister. He will be sentenced at a court in London on November 29.
"At a time when she should have been happily looking forward to the birth of her new child, Sana Muhammad was killed in cold blood by her ex-husband, Ramanodge Unmathallegadoo," Detective Sergeant Amjad Sharif, from the Metropolitan Police's Specialist Crime unit, said in a statement.
"Driven by feelings of bitterness and jealousy towards his ex-wife, who had remarried and started a new life, the defendant fired a crossbow, loaded with an 18-inch arrow."
"Sana, who was eight-months pregnant, had been running away up the stairs and posed absolutely no risk to him," he said. "By extreme fortune, the arrow missed the unborn baby. However, Unmathallegadoo showed a complete disregard for the foetus by firing a high-powered weapon from such a short distance."
Imtiaz Muhammad described his wife as a "very outgoing and bubbly type of person," who was always talkative and friendly.
"She was my soul mate, my best friend, my wife, my companion and my everything and I love her dearly," he said. "Sana was a very family orientated woman who brought up our kids while I went to work. She had strong family values and believed children should be greeted by a parent and loved when they got home from school. We had our future together. We had a very strong bonding with all our kids. Ram has finished everything. We all feel lost now."