Man Hailed as Hero for Killing Snake on a Train with Bare Hands
A commuter on an Indonesian train was hailed as a hero on social media for his cold-blooded reaction to a finding a snake on the carriage.
A video of the man's encounter with the reptile quickly spread online Tuesday, getting more than 170,000 views and nearly 4,000 enthusiasic comments.
The video showed the man, wearing glasses and a backpack, on the train from Bogor to the capital, Jakarta, lifting himself to grab the snake with his bare hands from an overhead compartment.
Carefully holding it by its tail, the man, whose identity is unknown, then swung the snake to the floor with one swift blow, appearing to kill the reptile before kicking it outside the door onto the platform, where a security guard and a military officer were in attendance as the train made an emergency stop.
The reptile appeared to be around three feet in length, but it remains unclear what kind of snake it was and whether it was poisonous.
The Commuter Line train operator Kerata Commuter Indonesia (KCI) believes the snake was intentionally brought on the train, sneaking out of a passenger's bag, but it is unlikely that the culprit will ever be found. "It will certainly be difficult because no one wants to confess," company spokesperson Eva Chairunnisa said in a statement to local media.
KCI also apologized to the passengers. "We regret the incident and apologise to train travelers who were disturbed by it," Chairunnisa told the AFP news agency.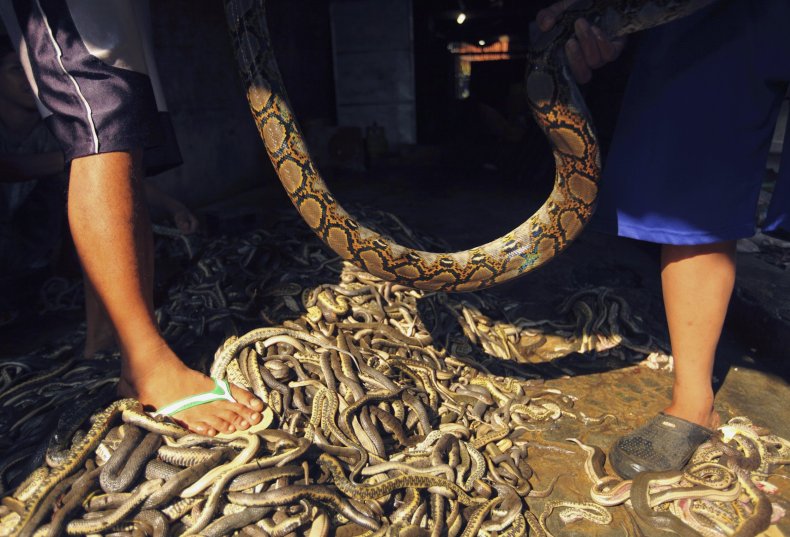 The train operator is a subsidiary of the state-owned railway company Kerata Api Indonesia. The Transport Ministry opened an investigation into the incident.
"The discovery of a snake inside a railcar on the Bogor-Angke line caused passengers to panic, so the train had to stop at Manggarai Station [in Central Jakarta]... to prevent a potential accident resulting from the panic," the directorate general said in a statement to local media on Wednesday.
Creating disturbances or danger to passengers on trains is an offense that can be punished with up to three weeks imprisonment.