Man Hands Over Truck Full of Supplies to Ukrainian Soldiers
An Englishman whose father was Ukrainian handed over a truck full of humanitarian aid supplies to Ukrainian troops.
The video shows Paul Zakovsky, a county councilor from Hertfordshire, in southern England, introducing himself and explaining that his father was from Ukraine.
He added: "When the war happened, I decided that I needed to help." He can then be seen opening up the truck to reveal supplies collected by volunteers in Britain for Ukrainian soldiers.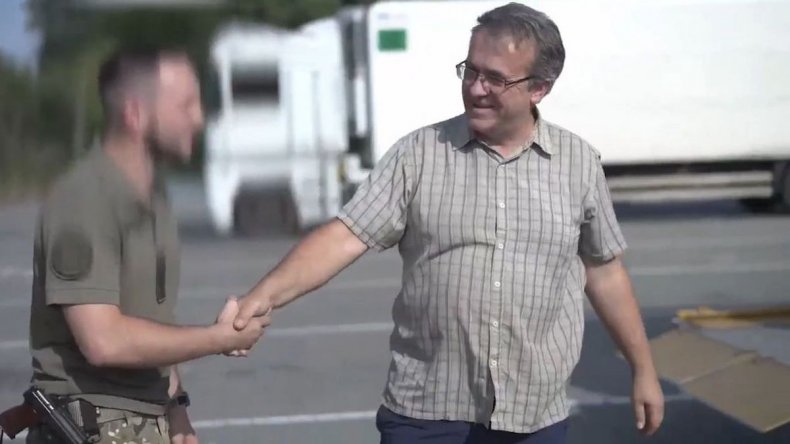 Zakovsky can be heard saying how he sees a lot of his father in the Ukrainian people. He said that his dad was: "pig-headed, like a bull, he just wouldn't give up. When he decided something, he was going to do it. And I see that in a lot of Ukrainians.
"I don't understand what Russia wants to gain, or thinks it can gain from this. It's just an incredibly stupid thing to have done. And I look forward to the day that Ukraine wins."
He added: "They need to endure, they need to fight, they need to win."
The images were obtained Wednesday from the National Guard of Ukraine, along with a statement saying: "Volunteers from Great Britain handed over humanitarian aid to the Guardsmen. British volunteers collected almost a full truckload of necessary items for the military of one of the divisions of the Northern Alliance.
"Mattresses, sleeping bags and many other necessary things will now come in handy when the Guardsmen perform official combat tasks in the hottest spots. We are very grateful to our friends, volunteers from Great Britain, for their help, as well as to Paul Zakovsky for his faith in the Ukrainian people.
"We thank all international partners for understanding and supporting the soldiers who defend our Motherland from the enemy. Together we will definitely win!"
The images and statement were also relayed by the Ministry of Internal Affairs of Ukraine.
Russia invaded Ukraine on February 24 in what the Kremlin is still calling a "special military operation." Friday marks the 191st day of the war.
The General Staff of the Armed Forces of Ukraine reported that between February 24 and August 31, Russia had lost about 47,900 personnel, 1,974 tanks, 4,312 armored combat vehicles, 1,091 artillery units, 285 multiple launch rocket systems, 152 air defense systems, 234 warplanes, 204 helicopters, 849 drones, 196 cruise missiles, 15 warships, 3,236 motor vehicles and fuel tankers, and 103 units of special equipment.
Russia has claimed that its casualties have been much lower but provides infrequent updates on its latest figures.
This story was provided to Newsweek by Zenger News.