Man Hilariously Fails to Evade Cops by Hiding Under Blanket
A man allegedly attempting to evade police in Maine has come in for ridicule after hiding from the authorities under a blanket.
In a contender for what might be the world's worst hiding place, Philip Dulude was found sitting in a chair outside a hotel he had earlier been ejected from with a white sheet placed strategically over him, police said.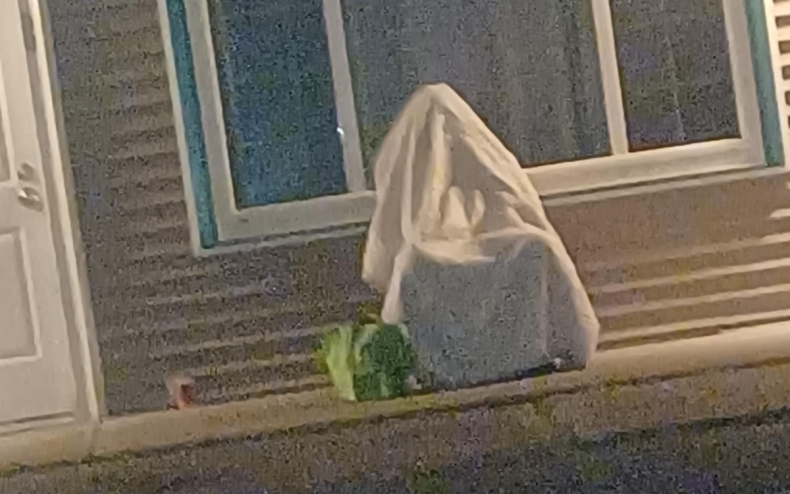 Unfortunately for the suspect, officers from the Belfast Police Department in Maine were not so easily fooled and subsequently arrested the suspect. His efforts were chronicled in a picture shared to Facebook by the police.
"Here at Belfast Police Department we have seen some crafty ways of hiding from the Police," Sgt. Dan Thompson wrote in a statement shared to social media. "This unfortunately is not one of them."
According to Sgt, Thompson, police were called to the Admiral Ocean Inn at around 9:30 p.m. on Monday following reports of "an intoxicated male causing a disturbance."
Police identified the suspect as Dulude. Sgt. Thompson said that Dulude was removed from the property and told "if he came back he would be arrested."
Later, at around 12:40 a.m., Sgt. Thompson said that another officer, Sgt, Matthew Cook, was conducting a check of the parking lot and surrounding area of the hotel when he found someone "in a chair hiding under a blanket."
The officer proceeded to pull the blanket off and duly discovered "Dulude hiding under it." Dulude was arrested for criminal trespass and violation of bail conditions.
The apparent attempt at hiding has proven to be a source of much amusement on social media, with people flocking to crack jokes in the comments section accompanying the Facebook post.
"Looks like he was only one sheet to the wind," one person quipped with another branding Dulude the "Not-so-Invisible Man."
Another joked that he was "a whole 6 months early" for Halloween while someone else wondered: "is this an episode of Scooby-Doo?"
Others, meanwhile, were significantly less impressed with one writing: "Your average house cat does a better job of hiding, tail and all!"
Newsweek has contacted the Belfast Police Department and Sgt. Thompson for comment.
This isn't the first time a suspect's attempts at hiding from police have hit the headlines.
In August of 2021, a man attempted to evade the authorities by hiding under a mattress. Unfortunately he was eventually sniffed out by a K-9 unit.
More recently, in March, a video surfaced of a police chase in California where a suspect appeared to have gotten the better of the officers after hiding behind a nearby car. Unluckily for him, it did not last.