Man Hoping to Unseat Liz Cheney Says He Pretended to Support QAnon to Discredit Media
A Florida Republican who is working to help "primary" Rep. Liz Cheney (R-Wyo.) due to her criticism of former President Donald Trump says that his previous support for the QAnon conspiracy theory was part of a ruse to trick the "leftist" media.
Karl "K.W." Miller said that his apparent past support for QAnon was faked in an effort to expose bias in the news media and social media companies during an interview published this week by WyoFile.
"I have no knowledge of [QAnon], no affiliation," Miller told the digital news outlet. "That is part of the leftist hit pieces they write, they always want to go after anybody who's a hardcore conservative or anybody as a leader in the party. They try to tag you as a QAnon conspiracy theorist."
"They took it hook line and sinker and ran with it," he added. "We just flushed them out."
It is not clear why Miller believes that clearly professing his own support for the conspiracy theory, which falsely claims that Trump is involved in a secret war against a cabal of Satanic Democrats involved in child sex trafficking, would expose bias on the part of others.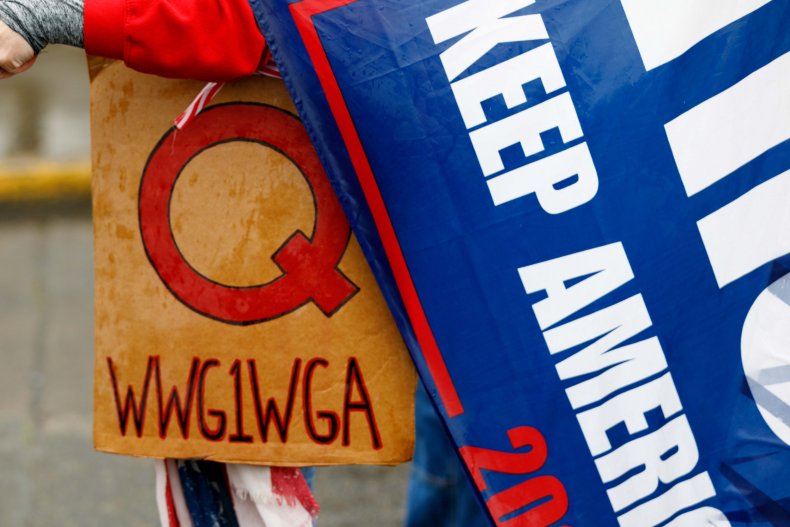 On July 4, 2020, Miller tweeted an outlandishly false claim asserting that pop star Beyoncé was "not even African American" but was instead an Italian woman named Ann Marie Lastrassi who was "faking" being Black "for exposure." Miller also accused the singer of being part of the "Soros Deep State agenda for the Black Lives Matter movement."
The Beyoncé tweet, which is no longer online due to Miller's Twitter account being suspended, was accompanied by hashtags that indicated unambiguous support for QAnon, such as #QAnon, #GreatAwakening and #WWG1GWA, referring to the popular QAnon slogan "where we go one, go we all." Miller also included the #Trump2020 hashtag.
Although his home is located more than 2,000 miles away from Wyoming, Miller moderated a Casper, Wyoming forum featuring potential Republican challengers to Cheney's seat earlier this month. The forum was hosted by Miller's organization The America First Political Committee, a group that is not registered with the Federal Election Commission.
Cheney and Wyoming state Sen. Anthony Bouchard, the leading challenger who last month described impregnating a 14-year-old when he was 18 as being "like the Romeo and Juliet story," did not take part in the forum.
"Mark my words, when it comes to November 2022: Any candidate that is not in the room tonight will not get elected in the state of Wyoming," Miller said during the forum. "I think we know who we're talking about, OK?"
Miller has experienced running for Congress himself in a failed independent campaign to represent Florida's 18th Congressional District in 2020.
Miller lost decisively, earning 2.2 percent of the vote compared to incumbent Republican Rep. Brian Mast's 56.3 percent and Democratic candidate Pam Keith's 41.5 percent.
Newsweek reached out to Cheney's office for comment.