Man Immediately Identified After Police Post Tweet of Him Posing by Car He Purchased With Fake ID
A man was immediately identified after police shared on social media a photo that showed him posing with the car that he had purchased with a stolen identity.
Detectives with the Kansas City, Missouri, Police Department took to Twitter and a popular metro-area Facebook group on Tuesday to ask the public's help in naming the suspect.
Police said they were following up on an identity theft case from last summer, when the suspect allegedly used a stolen ID to purchase a $58,000 Ford Explorer on July 23.
In less than an hour, police updated their postings, saying the suspect had been identified.
Officers told Newsweek that there had been a delay because the victim of the identity theft had not known his identity was being used. But as soon as police were notified of the theft report, the department contacted the Thoroughbred Ford dealership.
When the dealership made its report, it informed police that it is customary for it to take a picture of a customer with a new vehicle, to celebrate the purchase. The dealership said that the individual, despite using a stolen ID, participated in the photo taking. The dealership shared the photo with the police, and authorities then used it to identify the man.
"Thankfully, he took a picture with his new purchase," Kansas City police said.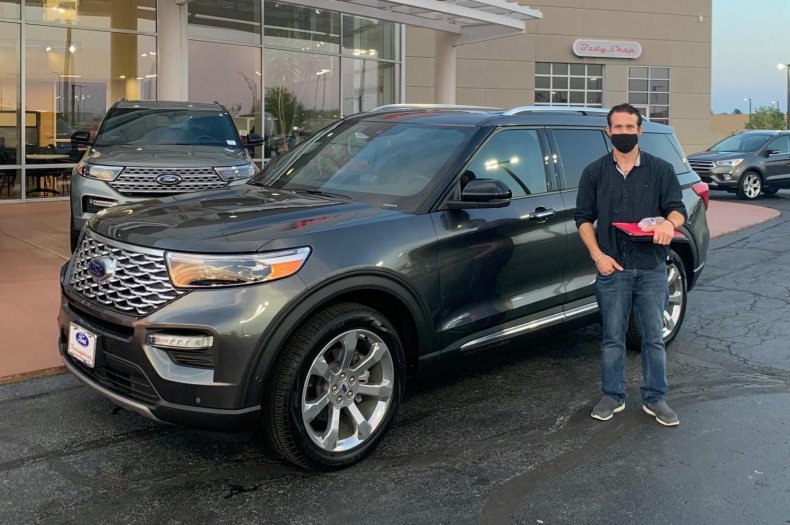 Police posted in the Stolen KC Facebook group, which helps spread the word about thefts in communities across the metro area.
"Thank you so much, we have already identified the suspect!" police informed the public on Tuesday. "Turns out he is in custody already on the Kansas side on different charges. We'll submit this case for prosecution over here."
Officers said the suspect is being held by a different agency for an unrelated crime. A spokesperson for the Kansas City police told Newsweek that the department is still working on the charges for the fraud crime and that the officer on the case is hoping to file those by the end of the week.
The suspect's identity has not been released.
Last week, a California man was arrested by the federal authorities after he fraudulently submitted applications for COVID-19 relief loans and received $15 million, which was spent on a number of sports cars, including Ferraris, Bentleys and Lamborghinis.
The man allegedly lied about the number of workers at his companies and the balances on his bank account records and federal tax forms. He also used somebody else's name, Social Security number and signature, according to the U.S. Attorney's Office for the Central District of California.