A 30-year-old man injected magic mushrooms directly into his bloodstream and ended up in hospital with multiple-system organ failure.
The man remained in hospital for 22 days—with eight of those in intensive care—during which time staff conducted tests revealing that the species of psychedelic mushroom he had injected, Psilocybe cubensis, was actually "growing in his blood," according to a case study.
The man has bipolar disorder and a history of intravenous drug use, the authors of the study wrote in the Journal of the Academy of Consultation–Liaison Psychiatry.
The man's family told the authors—who are from Creighton University School of Medicine in Phoenix, Arizona—that he frequently avoided taking his prescribed psychotropic medications, which often resulted in him cycling between depressive and manic states.
Prior to injecting himself with the magic mushrooms, the man had reportedly been researching ways to treat his opioid dependence and depression.
During his research, he came across reports online of individuals micro-dosing with LSD and hallucinogenic mushrooms for their therapeutic effects.
He decided to brew himself a "tea" consisting of magic mushrooms boiled down in water, which he "filtered" through a cotton swab before injecting it intravenously.
In the following days, the man began experiencing various symptoms such as lethargy, jaundice, diarrhea and vomiting of blood.
He was later found by his family who took him to a hospital emergency department, with the authors noting that he was "grossly confused."
Medical staff found that the man was suffering from kidney dysfunction and liver injury, among other complications.
The patient eventually developed multi-organ failure and was transferred to the ICU where he was given intravenous fluids as well as antibiotics and anti-fungal medications.
He subsequently suffered septic shock and acute respiratory failure, forcing doctors to intubate him.
Lab tests revealed that the man had both a bacterial and a fungal infection, with medical staff detecting the Psilocybe cubensis growing in his blood.
The man's condition ultimately improved and he was released from hospital but, at the time of writing the study, the authors said he was still taking several medications, including anti-fungal drugs to prevent further growth of the mushrooms.
Magic mushrooms, which contain the psychoactive substance psilocybin, are usually taken orally, although there are a handful of anecdotal reports of people injecting them.
While this 30-year-old man was clearly harmed through his use of the mushrooms, the authors of the study say there is emerging evidence to suggest that the substance has therapeutic potential as an accompaniment to psychotherapy for the treatment of some psychiatric disorders—when taken in the correct manner, of course.
Studies have been conducted examining the use of magic mushrooms to treat anxiety and depression, substance abuse and obsessive compulsive disorder.
"The case reported above underscores the need for ongoing public education regarding the dangers attendant to the use of this, and other drugs, in ways other than they are prescribed," the authors wrote.
"It is unclear whether active intravascular infection with a psychoactive fungus such as Psilocybe cubensis may prompt persistent psychoactive effects as seen with ingestion of the same species, which could further contribute to changes in perception and cognition."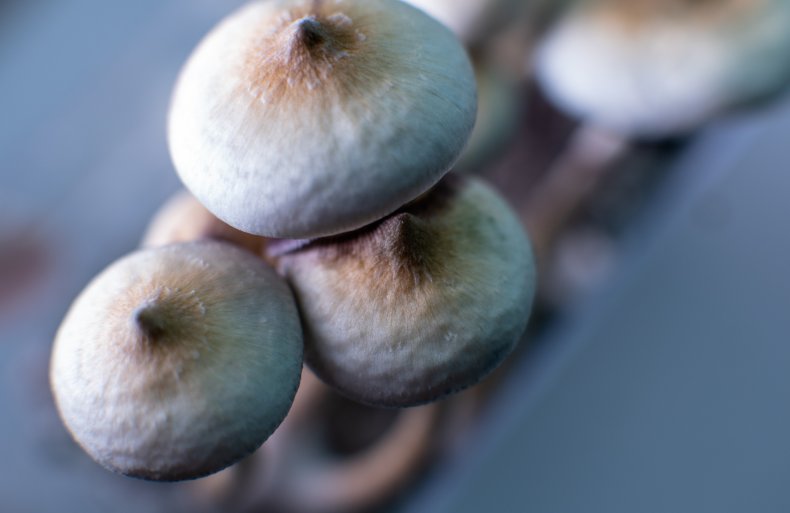 About the writer
Aristos is a Newsweek science reporter with the London, U.K., bureau. He reports on science and health topics, including; animal, mental health, and psychology-related stories. Aristos joined Newsweek in 2018 from IBTimes UK and had previously worked at The World Weekly. He is a graduate of the University of Nottingham and City University, London. Languages: English. You can get in touch with Aristos by emailing a.georgiou@newsweek.com.