Man Critically Injured by Lightning Strike Prompts Florida Officers to Issue 'When You Hear the Roar, Go Indoors' Warning
Officials have released advice on how to stay safe during thunderstorms after a man was struck by lightning in central western Florida on Sunday.
A further seven people were also injured at around 12:43 p.m. after lightning hit Clearwater Beach, a popular resort near Tampa characterized by white sandy beaches, NBC affiliate WESH 2 reported, citing officials. The bolt hit the expanse of beach behind Frenchy's Rockaway Grill seafood restaurant.
The man struck by lightning was in his 40s and went into cardiac arrest. He is in critical condition at Morton Plant Hospital. One individual who was burned during the incident was taken to Tampa General Hospital, while three others were also transported to Morton Plant Hospital and are said to be in a good condition. The three remaining individuals declined treatment, Clearwater Fire Department said, according to WESH 2.
At around 12:30pm, lifeguards on the beach headed for safety because of the poor conditions, WESH reported.
Clearwater Fire Rescue District Chief Greg Newland described how witnesses tried to help the victims by taking them into Frenchy's Rockaway Grill, ABC reported.
"They put themselves at risk, major thunderstorm going on, lightning popping every couple seconds, and they actually ran out on to the beach and were able to pull the victims into a more safe location," he said.
The fire department said according to ABC: "Beachgoers should take cover and go to a safe place when lightning and thunder are present. As a reminder, Clearwater Fire and Rescue uses the phrase: when you hear the roar, go indoors."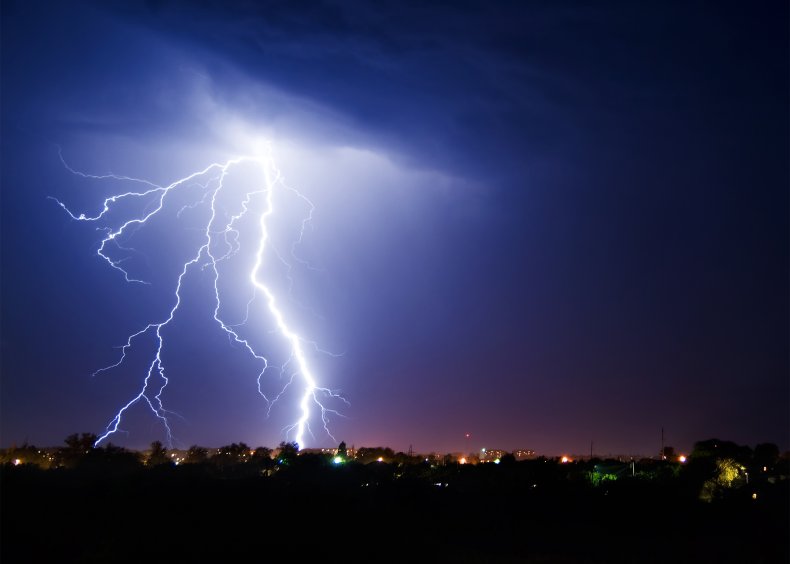 Ryan Tuttle, a witness, told ABC that he and his girlfriend, an ICU nurse, were on the beach at the time. When they saw the lightning strike, his girlfriend "jumped in" and began performing CPR on the victim.
"The adrenaline was rushing and everybody on the staff and everyone else," he said. "It was basically like time stopped at that moment."
Tuttle told BayNews9: "The one gentleman, his whole shirt was burned. There was actually a hole in his shirt where the lightning struck, so there was no clothing there at all."
Witness Kenijah Everson told ABC: "It was this big strike. This dude, he got struck by lightning and he fell."
Everson told BayNews9: "He just instantly fell. Then the girls that were with him, they fell too, but they came back up and they tried to get up and they tried to walk but they fell back down, like their legs... They couldn't walk."
Meaghan Cowen, an elementary school teacher from New Hampshire, claimed in a Facebook post that she was in Frenchy's Rockaway Grill at the time.
"We heard an incredibly loud strike of lightning next to the building. It sounded like a cannon blast," she wrote.
"Gratefully we sprinted to the car safely through the downpour. While driving away, multiple ambulances were heading towards the beach area. I'm grateful that we're safe and hoping that everyone will recover from their injuries. It was surreal!"