Man Jailed for 'Savage' Attack on Sex Worker Because He Was Angry His Relationship Ended
A man has been jailed for a "savage" attack on a sex worker that left her scarred for life.
Bartosz Konopacki, 28, was "intent on taking out his aggression on any woman he could find" after his relationship with his partner ended shortly before the attack in the early hours of May 7, West Midlands Police said.
Police said Konopacki, a Polish national, was driving around Coventry in the U.K. looking for a victim when he spotted the 31-year-old sex worker in the Hillfields neighborhood.
He lured the woman down a backstreet by indicating that he was interested in her services, police said. He then suddenly slashed her in the chest, neck and face with a kitchen knife at around 3.15 a.m.
Prosecutors said the victim tried to flee, but Konopacki grabbed her bag which caused her to dislocate her shoulder as she ran.
Konopacki fled to his car and drove off, while his victim lay on the ground bleeding heavily until a passing motorist stopped and called an ambulance.
The victim needed surgery for the serious injuries she sustained in the attack. Police said she eventually recovered, but has been left scarred for life.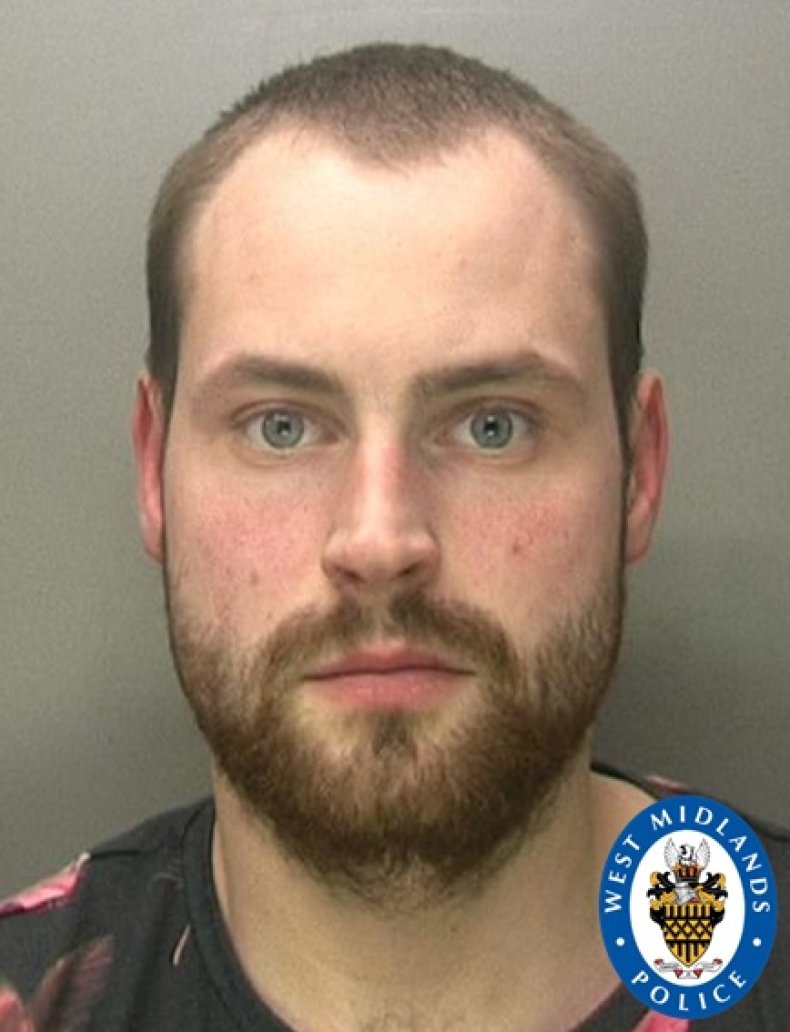 Police linked factory worker Konopacki to the attack after an off-duty police officer spotted his abandoned BMW in the parking lot of a care home days after the incident.
CCTV footage had captured him fleeing the scene in a light-colored BMW, but officers could only obtain a partial number plate.
The vehicle was registered to Konopacki and a search of the home in Coventry revealed there was a knife block with one knife missing. DNA from a knife and glove recovered at the scene was matched to Konopacki and his victim picked him out of a police line-up.
Konopacki was found guilty of attempted murder last month, police said.
He was sentenced to a total of 25 years in jail—a 21-year jail term plus a four-year extension—at Warwick Crown Court on Monday, the Crown Prosecution Service said. He also received a 24-month sentence for having a bladed article to be served concurrently.
Detective Sergeant Kelly Mills, from West Midlands Police Force CID, said she was glad Konopacki had been handed a lengthy sentence that reflected the "gravity of the offence."
She said: "This was a savage attack on a woman we understand Konopacki had never met before. We suspect he was angry at his relationship break-up, armed himself with a knife and set out looking to seriously harm someone.
"We could easily have been looking at a murder investigation but thankfully the woman received swift medical attention and has made a good recovery. I'd like to pay tribute to the way she has supported our investigation and the compelling evidence she gave at court."
Mills added: "Random attacks such as this are very rare and quite understandably the incident shocked the community. Our detectives did a great job in tracking Konopacki and I'm pleased he's been handed a long jail term in recognition of the gravity of the offence."
Christopher Lester, of the CPS, added: "This was a deliberate and brutal attack on the victim by Bartosz Konopacki. We may never know why he set out to attack the victim but we do know that today, he is going to jail for a very long time where he can no longer be a threat to anyone.
He added: "We commend the victim in this case for having the bravery to give evidence."