Man Killed With Machete Outside Gas Station, Police Say
A man was killed with a machete at a gas station in New Orleans on Sunday, police have said.
Officers responded to the 5100 block of St. Claude Avenue at around 1.30 p.m. following a call of an aggravated battery by cutting, the New Orleans Police Department (NOPD) said in a news release.
On arrival, officers found the victim with stab wounds, lying in the parking lot of the LA Express gas station. He was declared dead at the scene, the police department said.
An NOPD spokesperson told Newsweek that no arrests have been made in the case, but a person is sought for questioning.
"Through investigation, NOPD Homicide Unit detectives have determined that the victim and suspect in this incident were talking to each other when the suspect allegedly pulled a machete from his pants leg and swung it at victim, slicing the victim in his neck," the spokesperson said.
A worker at the gas station's convenience store told NOLA.com that the victim had pulled up to a gas pump and was filling up his car when another vehicle drove up close to him.
A man got out of the second vehicle and pointed at the trunk of the victim's car, then pulled out a large knife and slashed the victim in the neck, the employee said.
The police department released images from a surveillance camera, showing a man and vehicle that "were reported to have been involved in the incident."
Police said the man pictured in the images fled east on St. Claude Avenue in the vehicle after the attack.
The vehicle is possibly a 2008 Saturn Vue, according to police, with heavy damage to the front driver's side quarter panel.
Police said the Orleans Parish Coroner's Office will identify the victim and provide an official cause of death after his family is notified and an autopsy is carried out.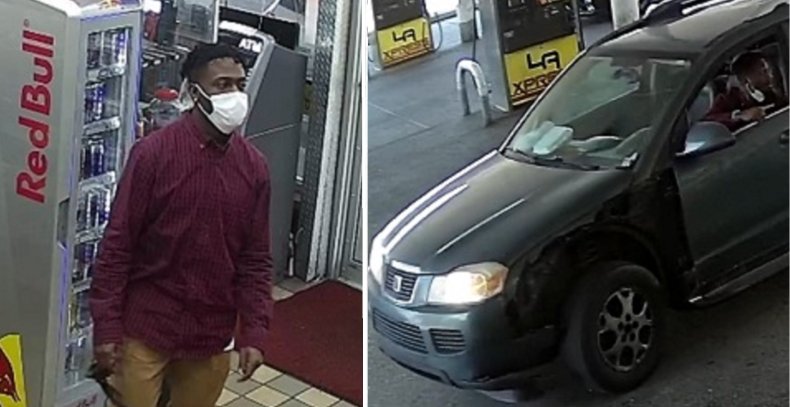 The store employee told NOLA.com the man was a regular customer. "He was a nice guy," he said.
The incident was one of at least two homicides that took place in New Orleans on Sunday.
The police department said officers found a man slumped over in a car in the 7800 block of Paris Road that morning. The victim had been shot and was pronounced dead at the scene.
There have been 15 known homicides in New Orleans so far in 2021, as of Sunday, according to a crime dashboard on the City Council's website. Thirteen of them involved firearms.
Anyone with information about the St. Claude Avenue homicide is asked to contact NOPD Homicide Unit Det. Jamaane Roy at 504-658-5300 or call Crimestoppers of Greater New Orleans anonymously at 504-822-1111 or toll-free 1-877-903-STOP.
Update at 10:35 ET on 03/01/21: This article has been updated with additional comment from police.