Man Killed Wife Over Birthday Trip, Family Says
A man from Gwinnett County, Georgia, was arrested for allegedly murdering his wife after reporting last week that she committed suicide. Her family says he killed her because she went on a birthday trip.
Nearly 20 people per minute are physically abused by an intimate partner in the United States. During one year, this equates to more than 10 million women and men, according to the National Statistics Domestic Violence Fact Sheet.
The Gwinnett Police Department told Newsweek that on August 2, police responded to a suicide call in Lawrenceville around 9:15 in the evening. "On the phone the caller stated his wife had shot herself. When officers arrived, they found the victim deceased with a gunshot wound to the head," the police report stated.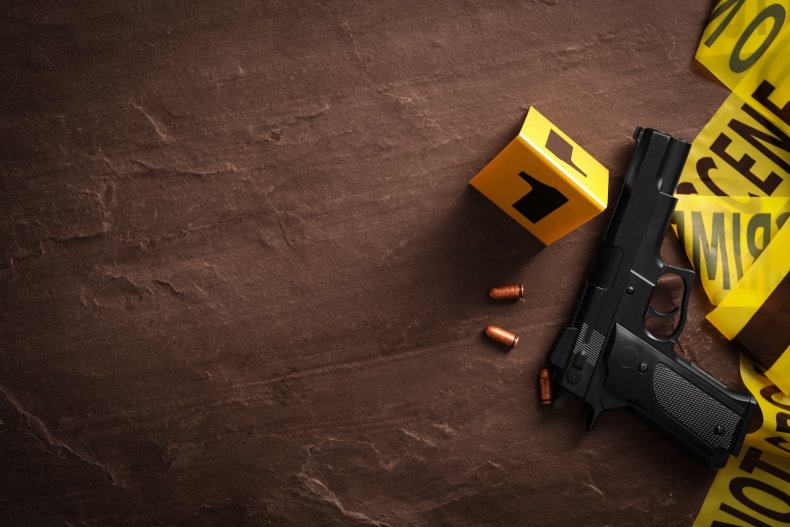 Glenroy Roberts, 51, told police officers that he and his wife, Claudia Roberts, 45, had gotten into an argument before Claudia shot herself.
While police could not confirm the motive at this time, local station WSB-TV spoke with Claudia's mother, Delores Squires, who told the news source that Claudia had traveled to New Jersey to celebrate Squires' birthday with her, and Glenroy had been angry about the trip.
"I guess he wasn't pleased with her for going," Squires said to WSB-TV. "She shouldn't have gone down like that. She didn't deserve that."
Upon further investigation of the supposed suicide, the medical examiner's office determined that Claudia had suffered from more than one gunshot wound, and several shell casings were found in or near her body, the police reported.
Corporal Ryan Winderweedle with the Gwinnett County Police Department told WSB Radio, "There was just some suspicious circumstances, he called in saying that she shot herself, they had just had an argument."
"Homicide unit came out, crime scene came out, they located additional shell casings, all those things kind of lead up to it not indicating that it was a suicide," said Winderweedle.
Glenroy was arrested and charged with felony murder and aggravated assault against his wife, police said.
A Mother of Five
The family said that Glenroy had been abusive in their 21-year marriage, but Squires said her daughter had stayed because she wanted her children to grow up with a father. She was a mother of five, according to a Facebook fundraiser for the family.
"I knew my mother went down fighting," Claudia's oldest daughter, Samantha Phillips told WSB-TV. "She wanted to live. She wanted to make everybody move, you know."
According to Phillips, Claudia's 10-year-old son had been in the room at the time of his mother's death. Phillips said, "He was there. Please pray for him. The trauma and things that may go through his head, we will not know."
Sadly, "1 in 15 children are exposed to intimate partner violence each year, and 90 percent of these children are eyewitnesses to this violence," according to the National Statistics Domestic Violence Fact Sheet.
Claudia's 15-year-old daughter, G.R., wrote a tribute to her mother on Facebook, saying, "You always knew what to do when something went wrong. You played the mom and dad role so well, and made it look so effortless and you never forgot to smile. I know I can get through anything because you did. You are my hero and I love you so much."
Squires told WSB-TV that anyone in an abusive relationship should leave. "If a person should ever hit you, don't let it happen a second time, because it's going to continue," she said.
Newsweek reached out to the Gwinnett Police Department for comment.
Other domestic violence stories include a woman who married her bodyguard after leaving her abusive partner and a father who is believed to have killed his three children before taking his own life in Oklahoma City.
Anyone seeking help should call The National Domestic Violence Hotline, a free and confidential hotline available 24/7 that can be reached on 1-800-799-7233 or TTY 1-800-787-3224. The Hotline also provides information on local resources. For more information visit thehotline.org