Man Landing Interview Thanks to Hilarious Resume Has Internet in Stitches
A post on Reddit of a picture of a very laid-back resume has gone viral with nearly 90,000 upvotes.
In the post entitled "Wife's employer received this resume for a position. He got an interview because the manager couldn't stop laughing (edited for privacy)," one can see that the employee lists that he was a "Warehouse Associate."
"I put bolts in bags, than slap a label on that hoe. Then bring it to somewhere else in the warehouse," wrote the employee in the resume.
While this particular employee appears to display perhaps too much honesty in describing his tasks, others tend to embellish their roles or outright lie on their CVs to land a job. A survey from HR and performance management platform StaffCircle found that 32 percent of 1,500 respondents said they had lied on their resume in the past though 58 percent admitted they did not gain an advantage by doing so.
"With a slowing economic market, diminished geographical barriers to work and the cost of living crisis looming, the reasons for a candidate to lie during the recruitment process could be wide-ranging," wrote StaffCircle. "Our results show that there's no definite reason for lying during the interview process."
About half of respondents said that they lied to cover a lack of experience, 38 percent about particular skills and 26 percent about a previous salary.
This particular jobseeker did not seem to be interested in lying. In another role as "Warehouse Associate," they described their role as "I was putting boxes around 10-70 lbs onto pallets and sometimes would work with partners to do 2 men jobs, it's the same instead you'll need 2 men to bring down these boxes that [weigh] 70+ pounds. I started off as a temp then they saw how serious I was and made me permanent."
In their third job as "Warehouse Association," they describe how: "I was a temp in there, they just needed me for a while then let me go."
While they were working in "Roofing," they described their role in great detail: "Up on the roof replacing the old roof with the new one."
While this level of apathy worked for this particular employee, it's certainly a risky route to take however, creating a resume that stands out can certainly help your chances of securing an interview.
Employment website Indeed shared some tips for creating "fun" resumes:
Enhance With Color
"Best practices when creating a traditional resume often suggest adding a third color like blue or green, but to avoid anything bright. When you're creating a fun resume, this notion doesn't especially apply. Hiring managers have dozens of resumes to sort through, and the simplest way to get your resume noticed is by adding an appealing pop of color to the layout. In the same way that black and white photos with color accents attract attention, so too can your resume."
Artistic Background Image
"Illustrators and art-savvy job applicants might consider using their resume as a canvas. Experiment with design by first creating your masterpiece, then add your content to unconventional areas of the document. Imagine a cartoon character who is speaking your name and summary, while holding your work experience in one hand and your education in the other. Your job skills may appear as free-floating objects or details of the character's rain jacket."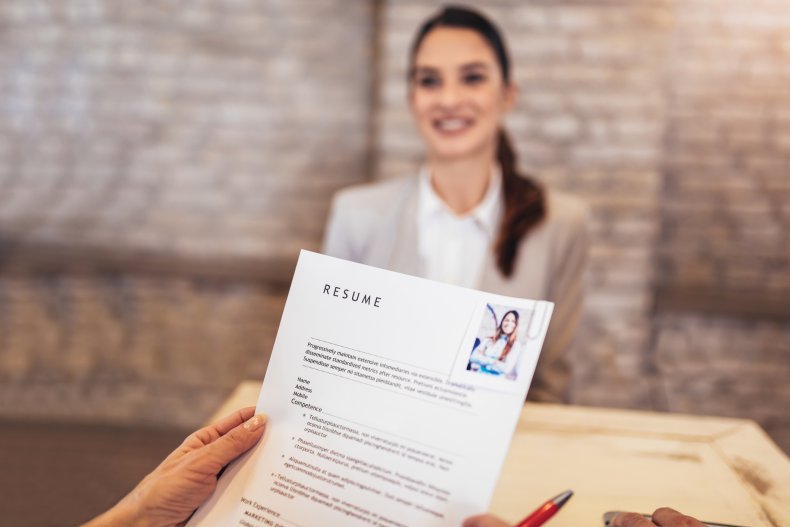 Results, Not Responsibilities
"You can make your resume unique without making a total artistic transformation. Enhance your professional achievements by adding numbers. Rather than simply listing the details of your roles and responsibilities at previous jobs, show your professional abilities by providing the key metrics of your accomplishments. For example, you might use an appealing graphic or chart that displays a visual representation of your 10 years in freelancing. This may include the 85 projects you completed for clients, the percentage of your work that exists in print versus digital mediums and personalized icons that correspond with your skills."
Many users were quick to celebrate the frankness of the resume, with one person saying, "This is the same type of person that you will get no bull***t from during the interview. Guy's a straight shooter. I hope he gets the job and does well for himself. Maybe even finds an opportunity for promotion." Another commented: "He's got upper management written all over him."
In a comment with nearly 10,000 likes, one user said: "I'm cracking up but it also seems weirdly efficient. It's like 'yes I can do work, this is what I did, if you need me to do something I'll just fu***** do it because that's how jobs work."