Man Leads Destructive Police Chase in Stolen School Bus, Leaving Trail of Damaged Vehicles
Police apprehended a man in a stolen school bus following a destructive 15-minute chase.
Seattle Police received a report about a stolen school bus on Tuesday morning, according to local news station KIRO 7. The suspect, whose name has not been released to the public, reportedly led officers on a chase through multiple neighborhoods, taking the 33,000-pound vehicle up to speeds of around 50 mph. Throughout the pursuit, he swerved across lanes of traffic, ran red lights, and rammed into other vehicles.
Officers said that up to 20 cars were damaged over the course of the man's joyride. The chase came to end near Seattle's 23rd Avenue after the man crashed the school bus into a public transit bus and then into a light rail station construction site.
Following the crash, the suspect got out of the bus and attempted to flee, but was quickly apprehended. He was taken to a nearby hospital for treatment and later booked at King County Jail. He faces charges of vehicular assault and auto theft.
Several individuals have come forward to report minor injuries sustained due to the chase. Seattle Police are still working on determining the full scope of the injuries and damage, as well as on finding more witnesses.
"We're trying to get this person charged with vehicular assault because of the intentionality of the crashes," Seattle Police Detective Patrick Michaud told KIRO 7.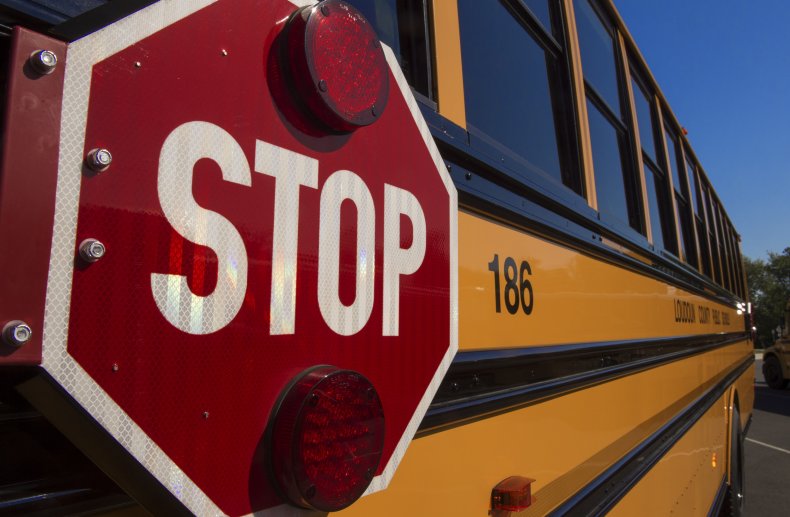 Authorities determined that the man is an employee of TransWest, a bus service company, but is not authorized to drive buses.
"TransWest is investigating an incident regarding a stolen company school bus this morning," the company said in a statement about the incident. "We are evaluating the situation internally at this time and will be working with local law enforcement in their investigation. An individual has been arrested and is currently in custody."
Seattle Public Schools confirmed that the bus involved in the chase did not serve the district.
The Seattle Police Department urges anyone who believes that they, their vehicle, or their property were damaged by the chase through the SoDo, Beacon Hill and Central District neighborhoods to report their story by calling 911.
In 2019, a Canadian teen was arrested in Fredericton, New Brunswick, after stealing a school and leading a similar chase with police. The 14-year-old's joyride lasted longer than the one in Seattle at 30 minutes but reportedly caused much less damage. Despite numerous close calls, authorities reported that only two police vehicles were damaged.
The teen's joyride was eventually ended by a spike strip deployed by police.
"It certainly was a precarious situation," Sergeant Tim Sowers said. "We're lucky that more people weren't seriously injured. They had to break the glass out of the door of the bus as I understand in order to get access to the door to open it up and the young man was taken into custody without incident."