Man Leaves Note Saying He Killed Wife, Kids After Vaccine Card Forgery Exposed
A man in Germany left a note suggesting he killed his wife and three children because he feared he would be arrested after his forgery of a COVID-19 vaccination card was exposed, authorities have said.
Officers found the bodies of two adults, both aged 40, and three children aged 4, 8 and 10 with gunshot wounds in a house in the Senzig district of Koenigs Wusterhausen, outside Berlin, on Saturday.
Investigators initially said they believed the family may have been killed by an outsider, but later revealed the incident was a murder-suicide.
On Tuesday, prosecutor Gernot Bantleon said a suicide note was discovered in the family's home that has shed light on the crime.
In the note, the man wrote that he had forged a COVID-19 vaccination certification for his wife, Bantleon told German news media. Her employer had found out, and the couple feared they would be arrested and lose custody of their children. Investigators believe the man killed his wife and children, before taking his own life.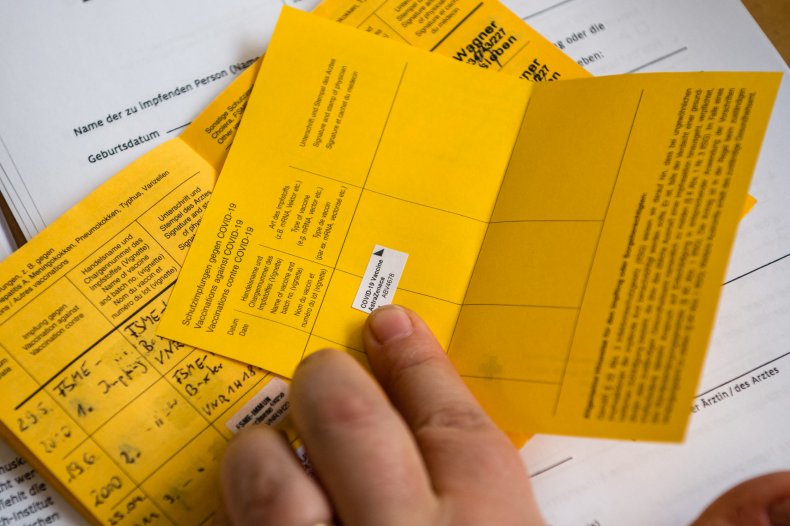 Police had been called to the family's home on Saturday afternoon after neighbors reported seeing lifeless bodies in the building, authorities said over the weekend.
Some local reports suggested the family was in COVID-19 quarantine at the time.
The case comes after Germany imposed new restrictions to combat the country's biggest wave of coronavirus infections so far.
From November, employees have been required to show they are vaccinated against COVID-19, have recovered from an infection or test negative.
The country has also banned unvaccinated people from accessing all but the most essential businesses such as grocery stores and pharmacies.
German Chancellor Angela Merkel had described new measures as "an act of national solidarity" during a press conference on Thursday, saying they were necessary to address concerns that hospitals could become overwhelmed with COVID-19 patients. "The situation in our country is serious," she said.
Merkel also backed the idea of imposing a national vaccine mandate that could take effect as soon as February. "In light of this situation, I really think it's necessary to pass such a mandate," Merkel said.
On Tuesday, Germany's parliament is set to debate a proposed vaccine mandate for hospital and nursing home staff.
About 69 percent of Germany's residents are fully vaccinated, short of the government's minimum goal of 75 percent.
If you have thoughts of suicide, confidential help is available for free at the National Suicide Prevention Lifeline. Call 1-800-273-8255. The line is available 24 hours every day.